Five years after a historic ruling to decriminalise gay sex, life for many LGBTQ+ Indians in smaller towns and villages is starting to change
Much to celebrate five years after decriminalisation
But violence and persecution persist
Next frontier: the right to same-sex marriage
By Vidhi Doshi
MUMBAI, Sept 20 (Openly) - Hemant Kumar dreams of living a simple life - with a loving husband, doting daughter and all the respectability that comes from being an old-fashioned family man in small-town India.
Five years ago, Kumar thought that was just a pipe dream.
But a historic 2018 ruling by the country's Supreme Court to decriminalise homosexuality opened the door to love for millions of LGBTQ+ Indians like Kumar who live in small cities and towns around the country.
Now the 21-year-old student dares to dream of finding love, living openly with another man, and raising a child together - all free from fear.
"From my childhood, in my family and in my society, everyone has a family. So inside myself there is a father who wants a kid," said Kumar, who lives in Jamshedpur, a steel manufacturing town in eastern India.
India decriminalised same-sex sexual relations when it scrapped a colonial-era ban on gay sex, making life easier and less dangerous for many LGBTQ+ Indians in mid-sized towns and cities.
But while the law is now on side, homosexuality remains a taboo topic for many in this socially conservative country of 1.4 billion, and discrimination persists in rural life.
Moves at the national level may have started conversations about gay topics for the first time in smaller towns, but the pace of change remains slow, said Koyel Ghosh, managing trustee of
Sappho for Equality, an organisation working for the rights of lesbians, bisexual women and trans men.
Whatever progress may have been won in the courts or enjoyed in big cities, rural LGBTQ+ life remains unchanged for many, she said.
"People are (still being) forced to be married off without their consent, they are being made to go through conversion therapy," said Ghosh.
"When it comes to civil rights, when it comes to basic rights, I don't think there is much that there's being done."
The new openness has itself led to more problems, particularly for young people, Ghosh said.
"Since decriminalisation ... younger people who are 18, 19 years of age have started coming out of the closet which is leading to a lot of family violence."
DATING
The country's landmark court judgment in 2018 liberated many big-city Indians and opened the door to new legal freedoms.
Many hope this will one day trickle down to a new life for LGBTQ+ Indians of all backgrounds in all corners of the country.
Before the ruling, Kumar said any attempts to date through apps or come out to friends would have been unthinkable.
His small town of Seraikela has a population of about 15,000 - far removed from big liberal urban enclaves such as Mumbai - and daily life continues to run on mostly traditional lines.
As a teenager, Kumar had never even heard the word "gay" spoken out loud. But since the landmark ruling, he has come out to close friends and found a community of people just like him.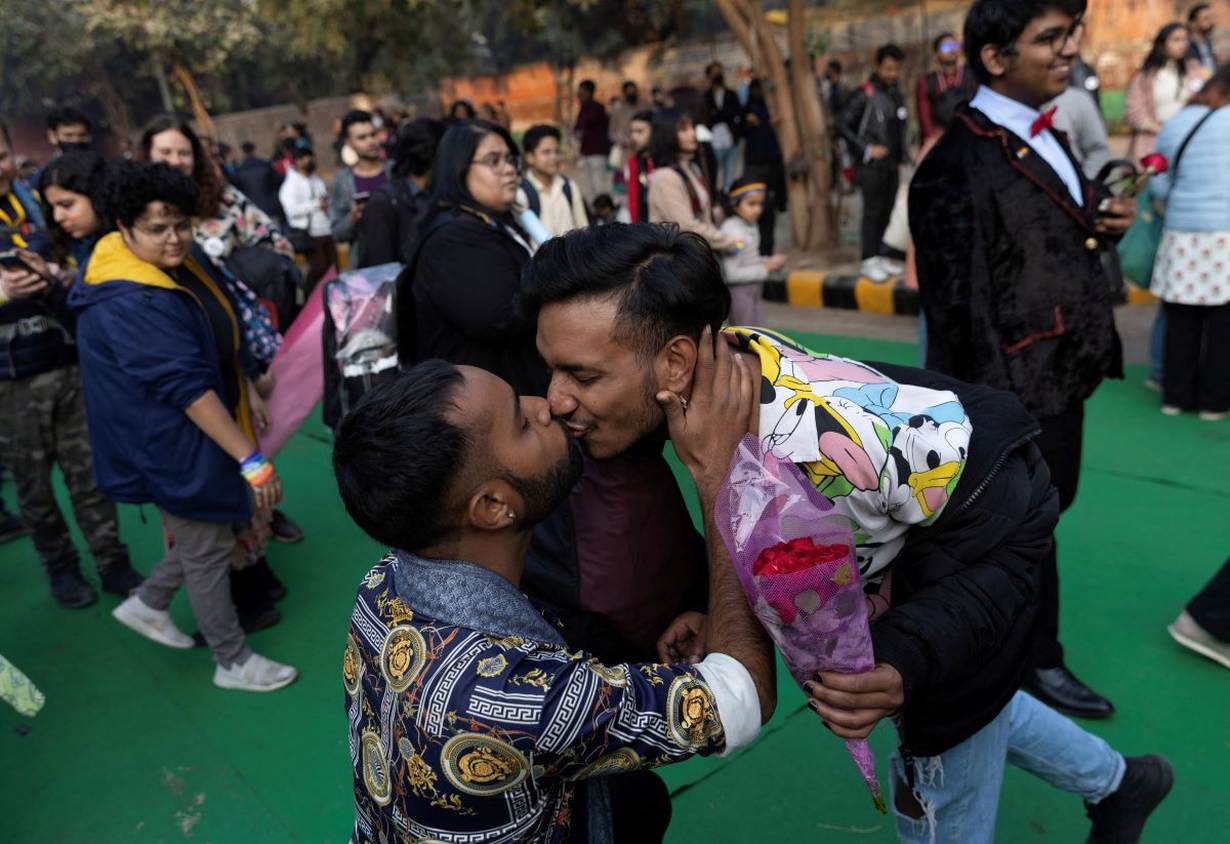 The Supreme Court's decision, he said, changed his life - a dry and distant legal case that talked directly to his life.
"That hit me very hard. Like... this is my story," Kumar said, recalling the revelation it was to his teenage self.
This upending of old norms is now playing out nationwide.
Dozens of towns and cities far from India's big centres have launched Pride parades celebrating LGBTQ+ culture - Jamshedpur in 2018, Raipur in 2019, Palampur in 2021, Shimla in 2023.
In 2022, India's National Medical Commission (NMC), set up to improve access to medical education, banned conversion therapy or the widely discredited attempt to change someone's sexuality or gender identity.
The NMC said any attempt to 'cure' homosexuality amounted to "professional misconduct".
The Federation of Indian Chambers of Commerce & Industry developed a 'Workplace Equality Index' to promote inclusivity, aimed at encouraging more workers to come out safely despite deep-rooted anti-LGBTQ+ bias in society.
Social media posts from small cities now freely promote club nights, film festivals and discussion groups for LGBTQ+ Indians to share their identities with friends and family
"People have an understanding of what LGBTQ is. Decriminalisation actually brought it into spotlight," said Souvik Saha, founder of the non-profit Jamshedpur Queer Circle, which helps young LGBTQ+ people in eastern India.
He said schools are exploring LGBTQ+ issues with pupils and trying to protect their gay, lesbian, bisexual or transgender students from bullying.
And companies are also taking on board the changed environment and doing more to promote equal rights.
"Some corporates also began to think about changing their diversity and inclusion policies first," said Saha, citing changes underway at a local Tata Steel plant.
"Some conversation (has) also (begun to happen) at the local level with the government," Saha added.
"A lot of the work now is around creating visibility. Earlier a lot of it was around HIV and TB," he said, highlighting a past focus on ill health, not LGBTQ+ wellbeing.
NEXT FIGHT - GAY MARRIAGE
With one big battle won, the next focus for LGBTQ+ activists is legalising same-sex marriage, with a court ruling on the issue expected in weeks.
Eighteen young couples have petitioned the Supreme Court to legalise same-sex marriage, said Meenakshi Ganguly of Human Rights Watch, a global NGO and advocacy group.
"These are people who are seeking for their relationships to be legally recognised," she said.
"While same-sex relationships are now more openly discussed in the media, and even in film and television shows, much more needs to be done to end entrenched discrimination," Ganguly added.
A June Pew Research study showed that 53% of Indians were in favour of same-sex marriage, a nine-point increase from a similar Ipsos survey conducted in 2021.
Ipsos noted that 56% of urban Indians said they had changed their opinion on LGBTQ+ matters in the past five years.
However, there has been a recent spate of crimes against LGBTQ+ people, with the trans community particularly targeted.
If India's Supreme Court legalises same-sex marriage in coming weeks, the decision will come with what lawyer Menaka Guruswamy called a "bouquet of rights" for LGBTQ+ couples spanning adoption, healthcare and pensions.
The government opposes same-sex marriage, saying that moves to legalise reflect "urban elitist views" and that LGBTQ+ love is not "comparable with the Indian family unit concept of a husband, a wife and children".
All of which means the fight is far from finished.
"Our struggle is not over yet," said Anand Chandrani, founder of Sarathi Trust, an LGBTQ+ community organisation based in the western city of Nagpur.
"It is still difficult for kids to come out to parents, because in India, marriage is everything," he said.
Related stories:
Gay marriage case could bring goldrush to Indian wedding industry
FACTBOX-Gay marriage rights around the world
Recognise our love, says Indian couple in same-sex marriage case
(Reporting by Vidhi Doshi; editing by Lyndsay Griffiths and Hugo Greenhalgh. Please credit the Thomson Reuters Foundation, the charitable arm of Thomson Reuters. Visit https://www.openlynews.com/)
Openly is an initiative of the Thomson Reuters Foundation dedicated to impartial coverage of LGBT+ issues from around the world.
Our Standards: The Thomson Reuters Trust Principles.