A push for gender-neutral toilets in India aims to fight discrimination and give trans and non-binary people equal washroom access
Campaigners fight for gender-neutral washrooms
Bathroom access a flashpoint in global trans rights debate
Many poorer Indians depend on shared or public facilities
By Shuriah Niazi
NEW DELHI, Aug 2 (Openly) - Like many transgender Indians, 32-year-old social worker Leela thinks twice before using a public toilet.
After facing insults and hostility in the past, she often opts to put up with the discomfort until she gets home.
"Using a public toilet is perhaps the easiest thing for a non-LGBTQ person. But for a trans woman like me, it can be ... a traumatic experience," Leela told Openly in the capital, New Delhi, asking to use only her first name.
She recalled an incident several years ago when she was forced to leave a women's toilet after other women objected to her presence.
"Since then I realised that I have no other option but to hold my pee," she said.
Repeatedly holding in urine for long periods of time can cause abdominal pain and increase the risk of urinary infections.
"It's really inhuman," said Fred Rogers, an LGBTQ+ activist from the southern state of Tamil Nadu who filed a petition to Madras High Court earlier this year demanding at least one gender-neutral bathroom in all public spaces.
His is one of several such initiatives focused on boosting trans bathroom access across the country of 1.4 billion people, where awareness of transgender rights issues is slowly growing.
India's Supreme Court ruled in 2014 that trans people should be recognised as the "third gender", extending rights that allow them to self-identity as their chosen gender, but prejudice and social marginalisation persists.
Many are rejected by their families and denied jobs, education and healthcare, driving many trans women - also known in India as hijras - to survive through begging at busy intersections and on trains, performing at social functions such as weddings or selling sex.
Under the Transgender Persons (Protection of Rights) Act, trans people should have equal access to public services and not face discrimination, but the bathroom issue shows that is often not the case in practice, said Rogers.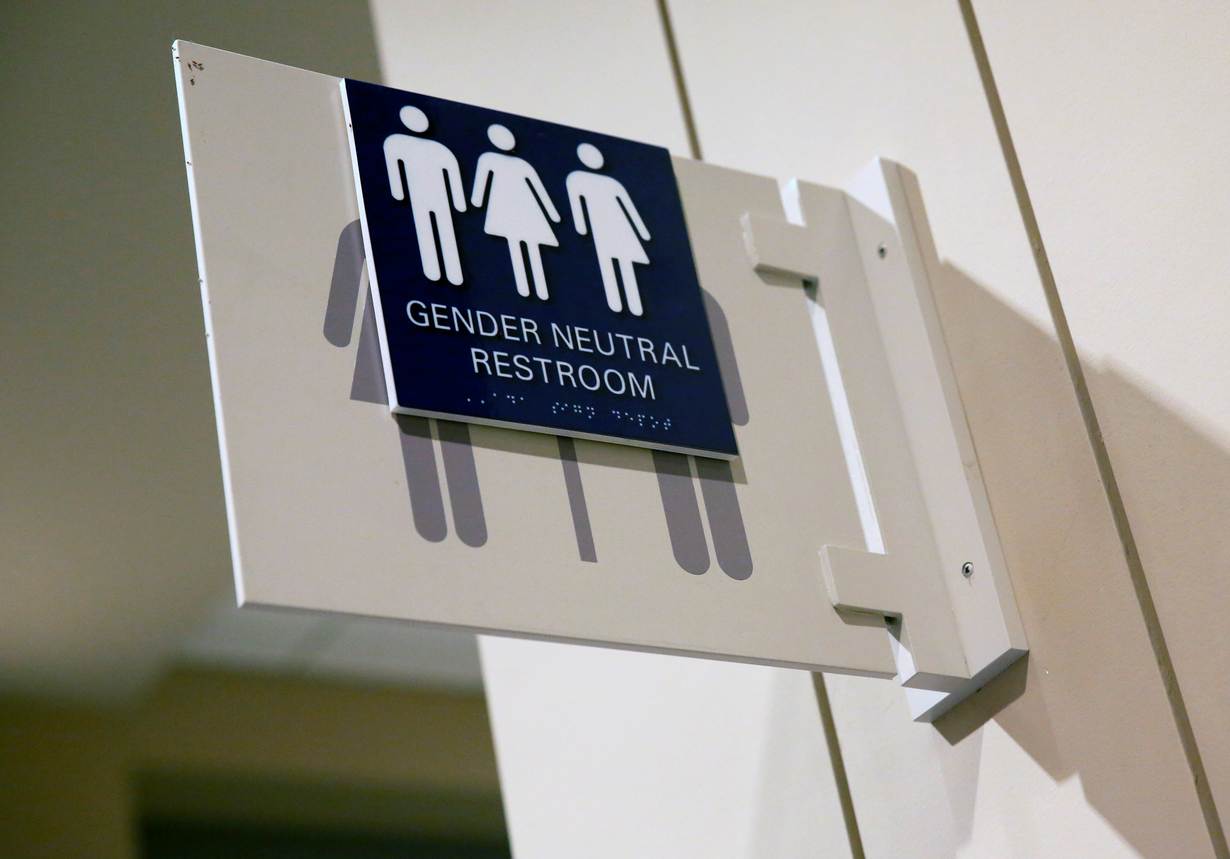 Bathroom bills
Access to public toilets has become a flashpoint as fierce debate about trans rights takes place around the world, particularly in the United States.
Following other states, Florida Governor Ron DeSantis signed into law a so-called "bathroom bill" earlier this year requiring all restrooms or locker rooms at public facilities to be used exclusively for people based on their gender assigned at birth.
LGBTQ+ rights campaigners say trans people should be able to access single-sex spaces according to their gender identity - from swimming pool changing rooms to hospital wards.
Most public hospitals in India, for example, do not have specific wards for trans people, or do not allow them to be accommodated in wards of the gender with which they identify.
But the bathroom issue is compounded in India by the lack of bathroom facilities in homes, many of which do not have their own toilet - especially in poorer neighbourhoods or the slums. That means shared facilities are the only option for many.
In the eastern state of Assam, local LGBTQ+ group Drishti has launched a campaign called #NoMoreHoldingMyPee to highlight the problems faced by trans and non-binary people, who identify as neither male nor female.
"Being able to answer nature's call is basic. Though there are facilities available for men and women, a trans person can feel threatened if they try to access them," said Rituparna, a member of the group who goes by one name.
Like the Tamil Nadu campaigners, the group is calling for gender-neutral toilets that can be used by anyone regardless of their sex or gender identity.
'Small step'
Five years since India legalised same-sex relations, there are signs of change on the issue, LGBTQ+ campaigners say.
In March, Delhi's High Court ordered the city government to build public toilets for trans people within eight weeks, following a successful petition from LGBTQ+ rights groups.
Delhi authorities said in response that some 500 toilets initially meant for people with disabilities had been designated for the use of trans people, adding that the creation of separate bathrooms for the third gender was now a priority.
Other public institutions such as universities are also starting to take note.
Vaivab Das, a research scholar at the Indian Institute of Technology (IIT) in New Delhi, who is non-binary, was behind the introduction of gender-inclusive restrooms at the college, which now has 12 such facilities.
More than 20 IIT campuses across the country have followed suit, Das said.
"Trans persons have been historically removed from public spaces and denied opportunities to access education, employment and other rights," Das added.
"Making (toilets) accessible to gender minorities is a small step towards making amends for historical and systematic exclusions."
Related stories:
Gay marriage case could bring goldrush to Indian wedding industry

Trans Russians panic over proposed gender surgery ban
FACTBOX-Gay marriage rights around the world
(Reporting by Shuriah Niazi; Editing by Helen Popper and Hugo Greenhalgh. Please credit Openly, the LGBTQ+ news website from the Thomson Reuters Foundation, the charitable arm of Thomson Reuters. Visit https://www.openlynews.com)
Openly is an initiative of the Thomson Reuters Foundation dedicated to impartial coverage of LGBT+ issues from around the world.
Our Standards: The Thomson Reuters Trust Principles.