* Any views expressed in this opinion piece are those of the author and not of Thomson Reuters Foundation.
At Greenham Common Women's Peace Camp I was free to be a tomboy, to love other women and to commit to activism
Stephanie Davies is a writer living in New York who worked for many years in communications for Médecins Sans Frontières (MSF) and co-edited an LGBT+ magazine in Brighton, UK. Her memoir "Other Girls Like Me" is out now
When I was 23, I lived for a year at Greenham Common Women's Peace Camp. It was a collection of tents, firepits, and makeshift outdoor kitchens situated at the many entrances to the massive US military base in Newbury that housed cruise missiles, poised to strike the Soviet Union at any moment.
I joined the camp in 1984, because it seemed the only rational way to express my outrage at the imminent threat of nuclear war, which seemed more and more likely under the bullish leadership of Ronald Reagan and Margaret Thatcher. I came away a seasoned feminist, burgeoning lesbian, and committed activist.
On my first week-long visit to the camp, I had a curly shaggy dog perm and was in an emotionally abusive relationship with a young man I'd been with since the age of 16. One night I cut into the perimeter fence with bolt cutters with two other newbies, and we were held at gunpoint by soldiers who threatened us with rape and murder. Yet, despite this terrifying experience, two months later I was a full-time Greenham woman.
It wasn't long before I had a bleached Mohican and had traded in my tight jeans and sensible shoes for baggy overalls and Doc Marten boots. I felt pre-pubescent almost.
Before puberty nobody expected me to dress a certain way, be sexy for men, or give up my favorite activity in the world, football. I could be a tomboy then and I could be a tomboy now. Only this time I was far from pre-pubescent, because I had discovered you could fall in love and lust with women, and that was a whole new world to explore.
The feminism I read about in magazines when I was at university – the sexual revolution of women in the 1960s wearing mini-skirts and popping the pill, of 1970s braless hippie feminists in their flowing, flowered skirts – was nothing compared to the androgynous tribal freedom of Greenham.
Whether we were lesbian, straight, or bisexual, we shocked wherever we went because we did nothing to conform, please, or titillate. England had never seen anything like us.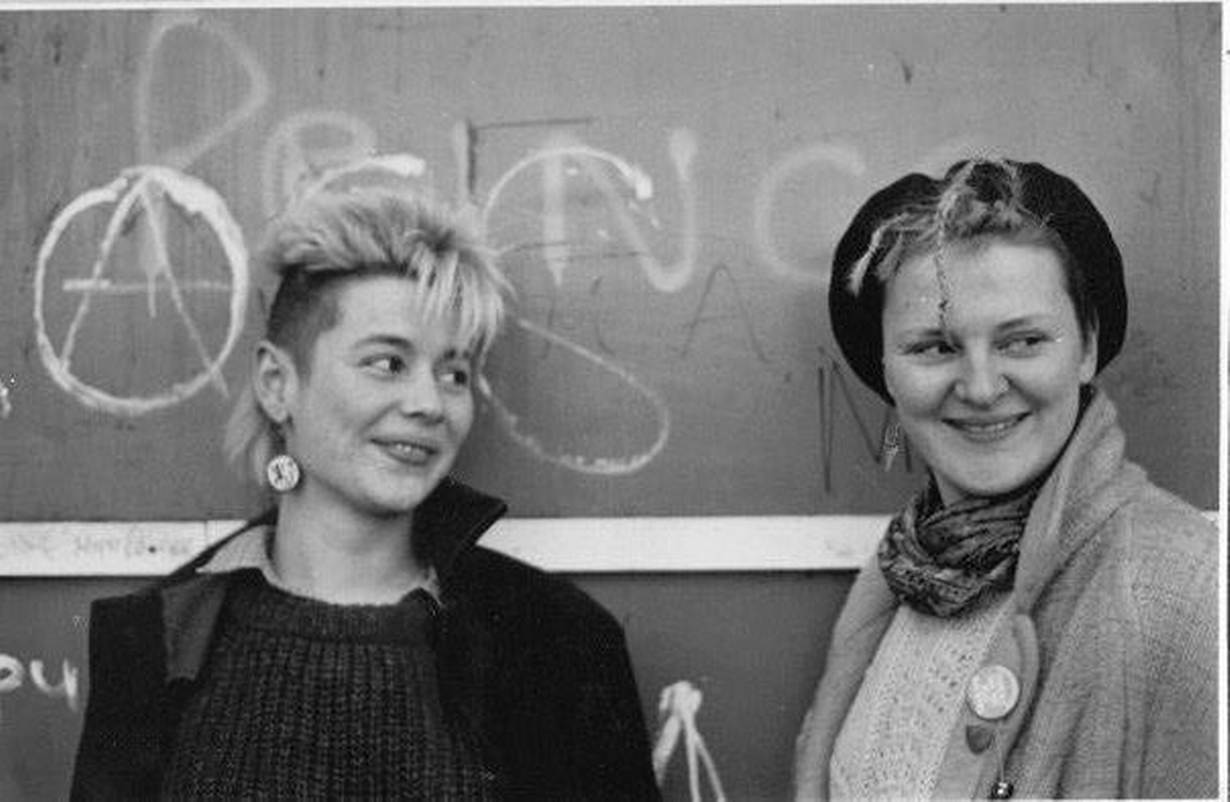 We didn't shave our legs, our armpits, or our pubic hair. We didn't pluck our eyebrows or wear nail varnish. We wore men's clothes if we liked, and we often went topless at the camp, or at least some of us did. We were altogether natural, except, of course, for our multi-coloured hair, which we wore as though we were our own tribe of Amazonian women. The freedom we felt in our own company was matched in intensity only by that of the looks, taunts, and rage directed at us whenever we stepped out into the "real" world.
The camp was a matriarchal, de-centralized, nature-loving society. It provided refuge to women, like me, escaping abuse, and liberation for us all in how we could live in a world free from male expectations, as we collectively took part in regular non-violent direct actions leading to mass arrests. These in turn led to huge media coverage, with icons like Yoko Ono visiting the camp to show their support, which helped bring more women to join us.
My time at the camp came to an abrupt halt when my father was diagnosed with cancer. He had visited me at the camp only once, to encourage me to leave. But, "I didn't hear what he didn't say and he didn't hear what I didn't say," and I stayed on, feeling unsupported by the one person, my radical father, whom I thought I could count on.
He died, just nine months after my giddy liberation.
I felt that I had freed myself of the patriarchy – only to lose my own beloved patriarch, an angry young man of the 1950s, a socialist headmaster in the conservative county of Hampshire, a man who had Angela Davis and George Jackson on his bookshelves and who always taught me to stand up for the underdog. Though my father never quite got it when it came to girls and women, I like to think if he had lived longer, he would have.
RELATED STORIES
OPINION: Yoga is for LGBT+ people of colour, not just white women
OPINION: Pride in Africa is for those who come after us
OPINION: Why Pride is different this year - a call for transformation and collective liberation
Openly is an initiative of the Thomson Reuters Foundation dedicated to impartial coverage of LGBT+ issues from around the world.
Our Standards: The Thomson Reuters Trust Principles.