Amid an anti-LGBTQ+ backlash in the US, Ron DeSantis and Donald Trump have spoken out against inclusive education and trans rights
DeSantis criticised over 'homophobic' campaign video

Trump, Florida governor have opposed gay, trans equality

LGBTQ+ rights become battleground in US politics
By Benjamin Ryan
LONDON, July 3 (Openly) - Gay Republicans have joined others in criticising a "homophobic" video posted by Republican presidential candidate Ron DeSantis' campaign that highlighted nomination rival Donald Trump's past statements in support of LGBTQ+ rights.
Posted by the Republican Florida governor's campaign on June 30 "to wrap up Pride Month", the video contrasts the former president's 2016 pledge to defend LGBTQ+ people with DeSantis' hardline conservatism on transgender and other LGBTQ+ rights.
Seeking to tap into a conservative backlash, both DeSantis and Trump have spoken out against LGBTQ+ education in schools, transition care for trans children, and trans inclusion in sports.
Here are the details on where Trump and DeSantis stand on LGBTQ+ issues: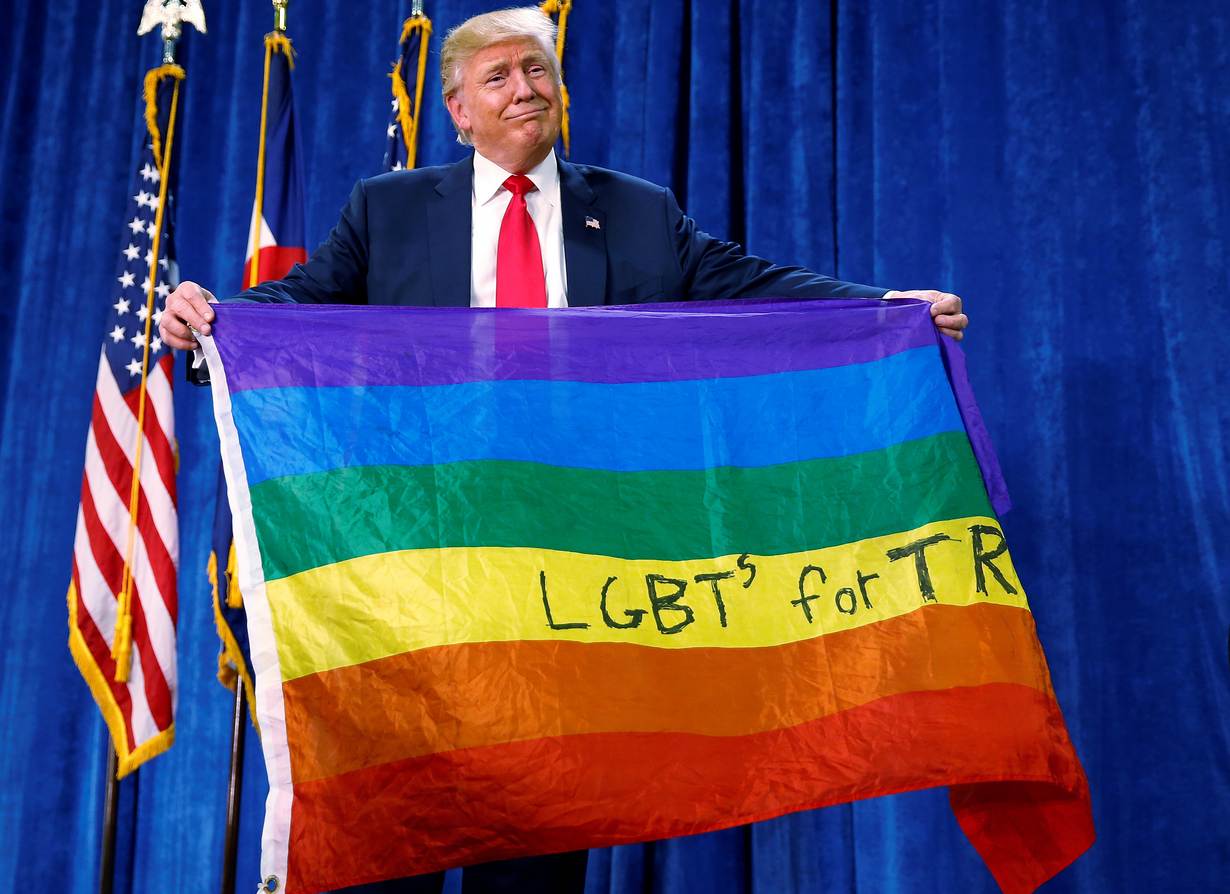 What have Trump and DeSantis said about LGBTQ+ rights?
Trans rights - from transition-related medical care to participation in school sports - have dominated both candidates' rhetoric on LGBTQ+ issues.
In the new video, a clip describes DeSantis' legislation as "literally threatening trans existence".
The governor has compared puberty blockers to "chemical castration" despite the fact that leading medical groups endorse the drugs' use in gender care for trans youth.
Trump has also pledged to revoke President Joe Biden's policies on such care if he becomes president for a second time.
During a weekend rally in Pickens, South Carolina, he repeatedly criticised sporting events letting trans women compete in female categories, before vowing to "keep men out of women's sports", Reuters reported.
Trump made similar comments in 2021, describing trans women as "biological males".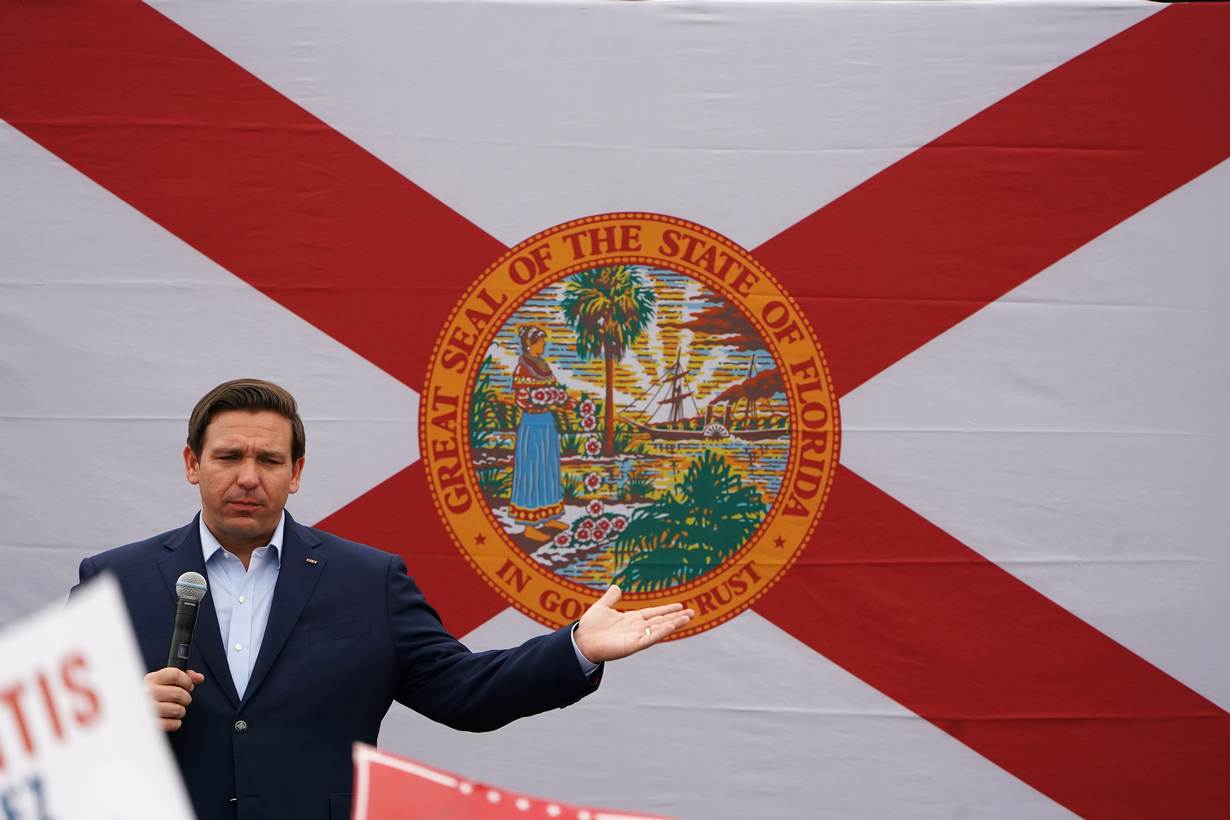 What's their policy record on LGBTQ+ matters?
While president, Trump banned trans Americans from serving in the military - a policy that Biden reversed. Trump has indicated he would re-establish the ban.
Often using religious exemptions as a basis, the Trump administration leveraged its regulatory power to roll back anti-discrimination protections for LGBTQ+ people in myriad settings, including healthcare, employment, adoption, school restrooms, housing and homeless shelters.
Trump's time in office also had a lasting impact on the federal judiciary, with his administration placing 234 judges in lifetime positions. His justice appointments have left the Supreme Court with a 6-3 conservative majority.
Nearly 40% of federal judges appointed by Trump to courts of appeals had demonstrated a history of anti-LGBTQ+ bias, according to an analysis released in January 2021 by Lambda Legal, a litigation-focused LGBTQ+ rights organisation.
During his time as governor, DeSantis has backed laws to restrict gender medical care for trans children, ban trans women and girls from female school sports and bar minors from attending drag shows in the state - once calling it the place "where woke goes to die".
He chose May 17 - International Day against Homophobia, Transphobia and Biphobia - to sign into law new measures including expanding the so-called Don't Say Gay legislation that prohibits classroom discussion of sexual orientation and gender identity.
Another new law restricted trans people's access to public gendered facilities, such as bathrooms and changing rooms, among others.
Federal courts blocked three LGBTQ+-related laws backed by DeSantis in June, including the ban on children attending drag performances.
What do LGBTQ+ rights advocates say?
DeSantis' most recent campaign video was heavily criticised by LGBTQ+ organisations and figures - including some Republicans.
Richard Grenell, the first openly gay White House cabinet official, called it "undeniably homophobic", while the Log Cabin Republicans, an LGBTQ+ group, said it was "divisive and desperate."
LGBTQ+ advocates have said a victory for either man in next year's presidential election would likely lead to the erosion of the rights of gay, bisexual and trans Americans.
"Trump and DeSantis are two extremist politicians that are cut from the same cloth," said Geoff Wetrosky, the campaign director of the Human Rights Campaign, an LGBTQ+ rights group.
This article was updated on July 3 to include DeSantis' new campaign video.
Related stories:
Disney sues Florida's DeSantis for 'weaponizing' government
DeSantis signs Florida ban on transgender treatment for minors
Bills restricting transgender rights in the US
(Reporting by Benjamin Ryan, Additional reporting by Lucy Middleton; editing by Lyndsay Griffiths and Hugo Greenhalgh. Please credit Openly, the LGBTQ+ news website from the Thomson Reuters Foundation, the charitable arm of Thomson Reuters. Visit https://www.openlynews.com)
Openly is an initiative of the Thomson Reuters Foundation dedicated to impartial coverage of LGBT+ issues from around the world.
Our Standards: The Thomson Reuters Trust Principles.