A Bulgarian transgender woman on her fifth day of a hunger strike in protest at the country's lack of trans legal recognition says she will not give up her fight
By Hugo Greenhalgh
LONDON, Nov 17 (Thomson Reuters Foundation) – A transgender woman on hunger strike in the Bulgarian capital Sofia in protest against a recent clampdown on trans rights, said her arrest on Thursday only made her more determined to campaign for equality.
Gabriela Bankova, a 32-year-old software architect, told Openly on Friday that she was prepared to die in the cause of trans rights.
"I intend to continue this protest indefinitely until the Bulgarian people hear me and understand me," Bankova said in a telephone interview from her one-woman protest outside the city's Palace of Justice.
"I want to see the inhuman, anti-constitutional laws removed and laws created in Bulgaria to ensure that trans people will be able to be treated with dignity, be able to transition, be able to receive medical care and be able to have the exact same freedom and rights as every other person in this country," she said.
"I will continue to not eat for as long as that takes, or until my life is ended."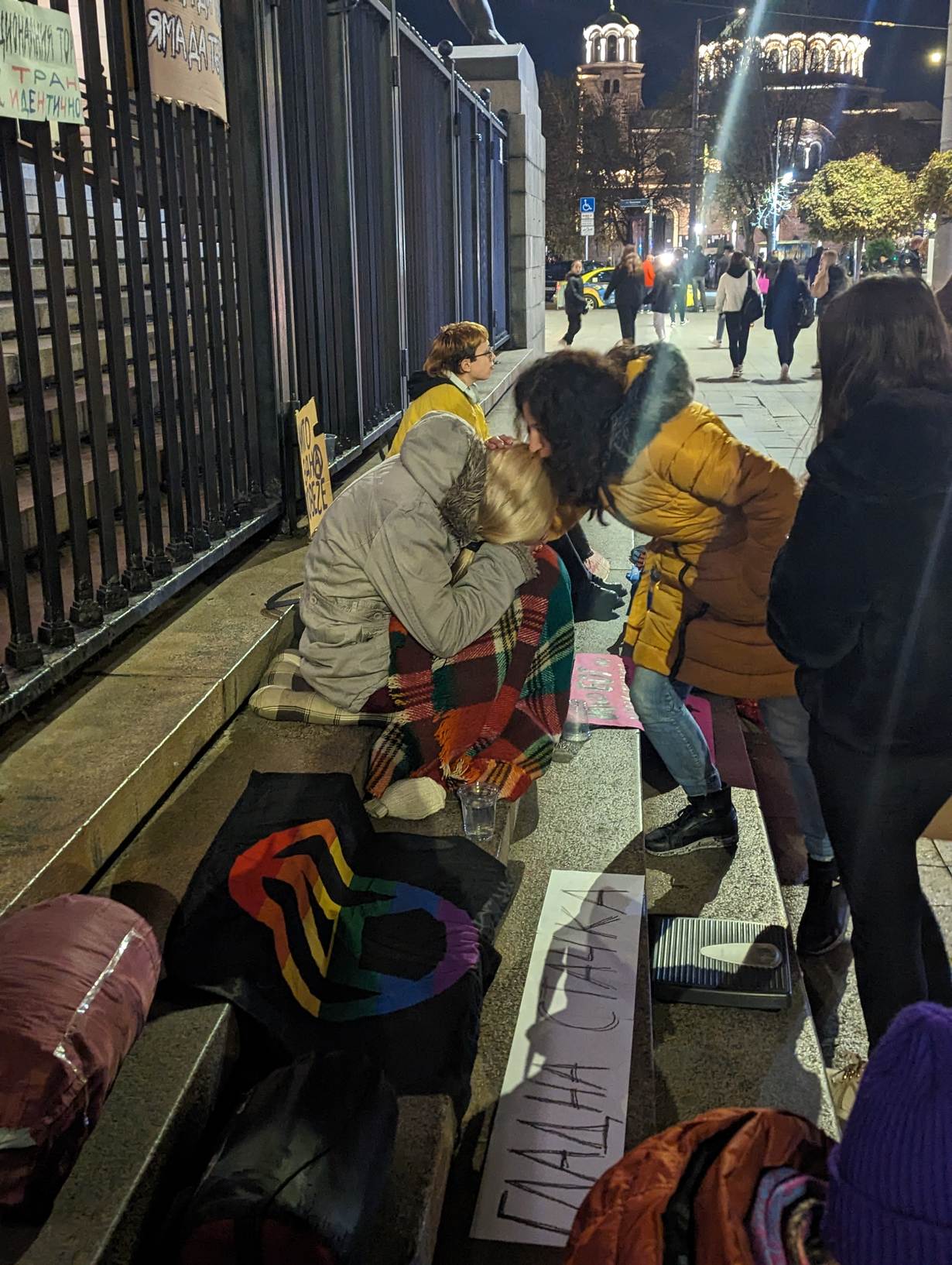 In February, Bulgaria's Supreme Court ruled that trans people would no longer be able to change their documents in line with their identity, effectively outlawing legally transitioning gender.
Bankova started her protest on Monday, saying she would not consume "anything with calories" until her aims were met.
On Thursday, she was arrested by police for reportedly not having proper identification papers.
While Bankova said she had been treated fairly and with respect by most of the officers, others at the police station had been abusive.
"One of them called me 'it' and 'a creature' and was very aggressive," Bankova said. She was also strip-searched by a male officer.
"Because I register on the (official) database as male, they forced a male officer to strip me and he was very embarrassed and shocked to see that I have the body of a woman," she said.
"They tried to humiliate me and they tried to scare me, but they were quite ineffective."
"The search was carried out in accordance with the law, no mistreatment was involved," the Bulgarian Ministry of Interior, which oversees the country's police force, said in a statement.
Bulgaria is ranked 40th out of 49 European countries in terms of LGBTQ+ rights, according to advocacy group ILGA-Europe.
Bulgaria is ranked 40th out of 49 European countries in terms of LGBTQ+ rights, according to advocacy group ILGA-Europe.
In September, the European Court of Human Rights ruled that Sofia had breached the European Convention on Human Rights by refusing to recognise same-sex marriages.
However, the country's parliament passed a law in July that classified a series of mostly violent offences motivated by the sexual orientation of the victim as hate crimes, which therefore attract heavier penalties.
Yet Bankova, on her fifth day without food outside the Palace of Justice, said equality for trans people remained, as yet, out of sight.
"I understood this (hunger strike) is insanity," she said.
"(But) this is not simply a desperate choice or a plea for help. It is a determination to risk my life completely and totally to fulfil these goals, which I believe are a noble and moral purpose," Bankova added.
"And to that extent, I am completely willing to risk my life and risk my death and will continue this hunger strike indefinitely."
This story was updated on Nov. 21, 2023, at 10:21 GMT to include a comment from Bulgaria's interior ministry in paragraph 13.
Lesbian parents fight to expand LGBTQ+ family rights in EU court

Top EU court rules Bulgaria must issue ID to child of two mothers

Bulgarian presidential candidate charged after storming LGBT office
(Reporting by Hugo Greenhalgh @hugo_greenhalgh; Editing by Jon Hemming. Please credit Openly, the LGBTQ+ news website from the Thomson Reuters Foundation, the charitable arm of Thomson Reuters. Visit https://www.openlynews.com)
Openly is an initiative of the Thomson Reuters Foundation dedicated to impartial coverage of LGBT+ issues from around the world.
Our Standards: The Thomson Reuters Trust Principles.