* Any views expressed in this article are those of the author and not of Thomson Reuters Foundation.
In 2020, Bhutan and Gabon lifted gay sex bans while Uganda clamped down on the LGBT+ community
By Hugo Greenhalgh, Rachel Savage and Anastasia Moloney
LONDON, Dec 24 (Openly) - Coronavirus dominated news around the world in 2020, creating particular challenges for the LGBT+ community in terms of mental health, access to HIV medication and scapegoating by religious groups seeking to apportion blame for the virus.
The year provided the backdrop for both victories and setbacks for LGBT+ people, with the lifting of gay sex bans in Bhutan and Gabon countered by a rise in the incidence of hate crimes and attacks and crackdowns in countries such as Uganda.
Here are 10 stories from a year of change for LGBT+ people.

1. The coronavirus pandemic
LGBT+ communities around the world were hit hard this year by lockdowns introduced to curb the spread of the new coronavirus, with many trapped at home alone or with homophobic or transphobic families.
In Uganda, 19 people were arrested in March at an LGBT+ shelter and imprisoned for almost 50 days, charged with risking the spreading of COVID-19.
Religious figures from Israel to the United States and Ukraine blamed the spread of COVID-19 on the LGBT+ community, with trans people targeted by police in Latin American countries accusing them of violating gendered lockdowns.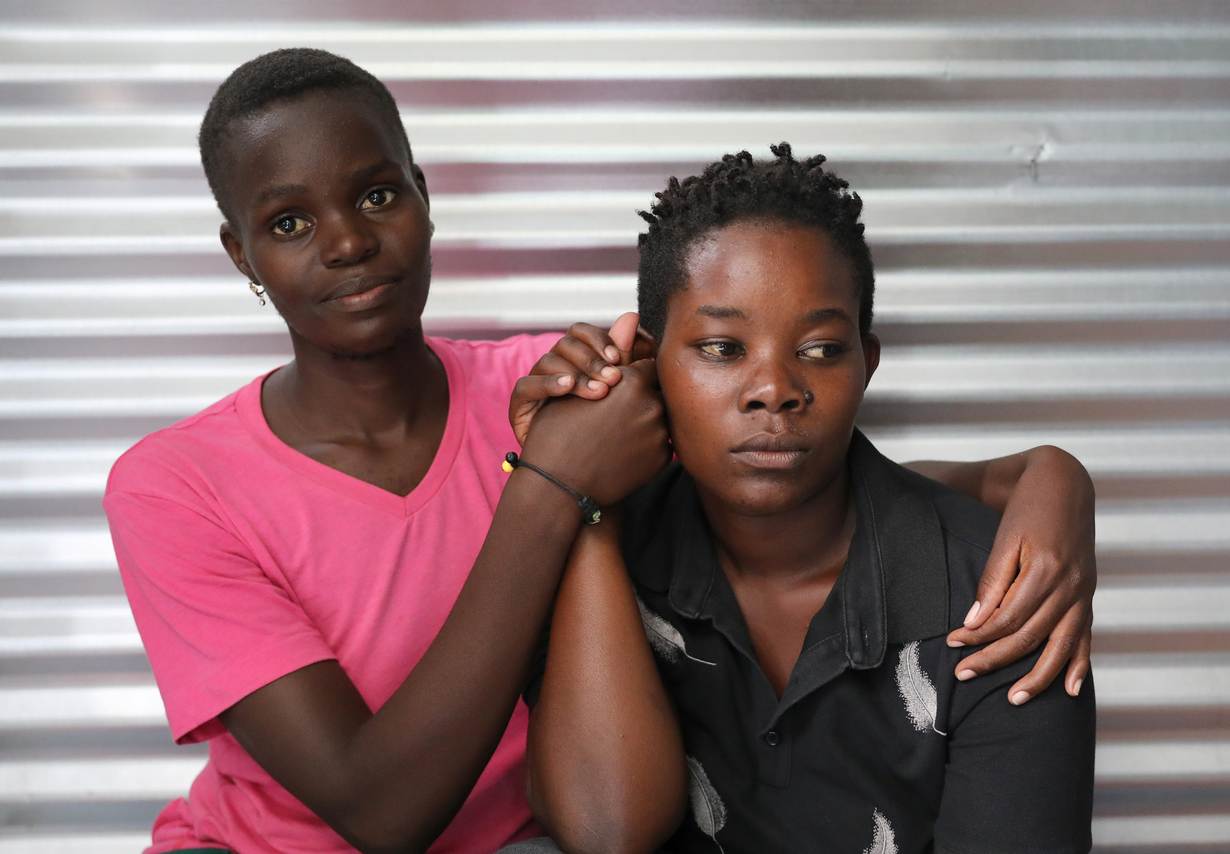 2. Black Lives Matter
The death of George Floyd in U.S. police custody in May led to the rise of the global Black Lives Matter movement – and the LGBT+ community looked inwards as the world focused on the human impact of racism.
Pride marches, previously suspended due to coronavirus lockdowns, saw thousands taking to the streets in support of racial justice globally, with many demonstrators calling for an end to often-overlooked racism in LGBT+ community.
3. Blood donation rules
Coronavirus lockdowns saw increased pressure on global blood supplies during coronavirus lockdowns, with access to donation centres curtailed around the world.
In response, countries re-examined decades-old policies imposing celibacy rules on gay and bisexual men seeking to donate blood with the United States, New Zealand and Australia reducing sex deferral periods from a year to three months.
In December, Britain announced an individual risk-based assessment, that will allow men who have sex with men to donate as long as they have not had anal sex with multiple or new partners.

4. Politics
Joe Biden's election as U.S. president in November brought hope to rights groups of a possible repeal of the ban on new trans personnel entering the military and the introduction of the Equality Act, a pro-LGBT+ piece of legislation.
Sarah McBride also became the country's highest-ranking trans lawmaker after winning a Delaware state senate seat.
Around the world, Belgium elected Petra De Sutter as its first trans deputy prime minister and Grant Robertson became the first openly gay politician to gain a similar role in New Zealand.
Israel elected its sixth openly gay MP, a record for the Middle Eastern country.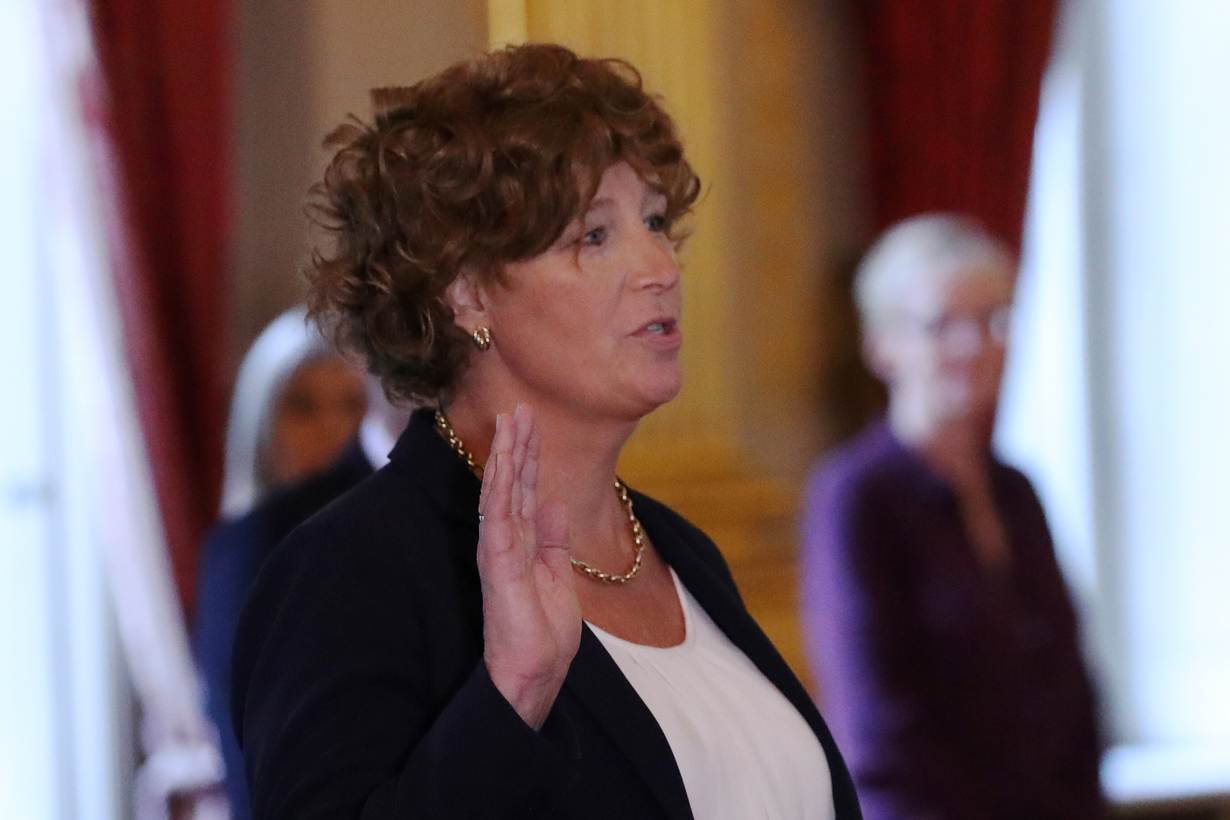 5. LGBT+ conversion therapy
The practice, which aims to change an individual's sexual orientation or gender identity, came under greater scrutiny.
Canada's federal government edged closed to banning conversion therapy, with a bill presented to the country's House of Commons in October.
In November, the Yukon became the fourth Canadian province or territory to introduce a ban, while in August, Queensland become Australia's first state to criminalise the practice.
Lawmakers in Mexico City voted to ban conversion therapy in July. Under the proposal, anyone who forces another person to undergo the practice can face up to five years in prison.
In Germany, lawmakers voted in May to ban so-called "conversion therapies" for under 18s, introducing fines or up to a year in jail for anyone advertising or offering the treatment.
In a pushback against such bans, a U.S. federal court overturned two south Florida laws that banned therapists from offering conversion therapy to children, on free speech grounds.
6. Gay sex and marriage laws
Gabon and Bhutan both voted to decriminalise gay sex. Sudan lifted the death penalty and flogging for same-sex relations, with only Iran, Saudi Arabia, Mauritania, Yemen and parts of Nigeria retaining the death penalty.
Montenegro legalised same-sex civil unions and Thailand's cabinet approved a bill to do so, which would also allow gay couples to adopt children.
In September, Barbados pledged to put gay marriage to a public referendum and recognise same-sex civil partnerships.
Costa Rica and Northern Ireland held their first same-sex weddings.

7. Transgender rights
More than 350 trans and "gender diverse" people were reported murdered in the year to October 2020, a 6% increase on 2019, according to the Trans Murder Monitoring project, run by advocacy group Transgender Europe.
The majority, 152, were in Brazil, followed by Mexico and the United States.
Britain's government announced in September that trans people would still need a medical diagnosis to legally change gender, scrapping a proposed reform that had sparked furious debate between LGBT+ and some women's rights campaigners.
In December, Switzerland's parliament voted to allow trans people to change their legal gender via a statutory declaration with no medical or court involvement.
Rugby's global governing body banned trans women from elite female rugby in October, saying evidence showed testosterone reduction was not sufficient to guarantee the safety of other players.
8. U.S. Supreme Court ruling on LGBT+ work discrimination
In June, the U.S. Supreme Court delivered a landmark victory for LGBT+ rights, ruling that a federal law forbidding workplace discrimination protects gay and trans employees.
In the biggest moment for LGBT+ rights in the United States since the Supreme Court legalised same-sex marriage nationwide in 2015, the justices decided that gay and trans people are protected under Title VII of the Civil Rights Act of 1964.
The law bars employers from discriminating against employees on the basis of sex as well as race, colour, national origin and religion.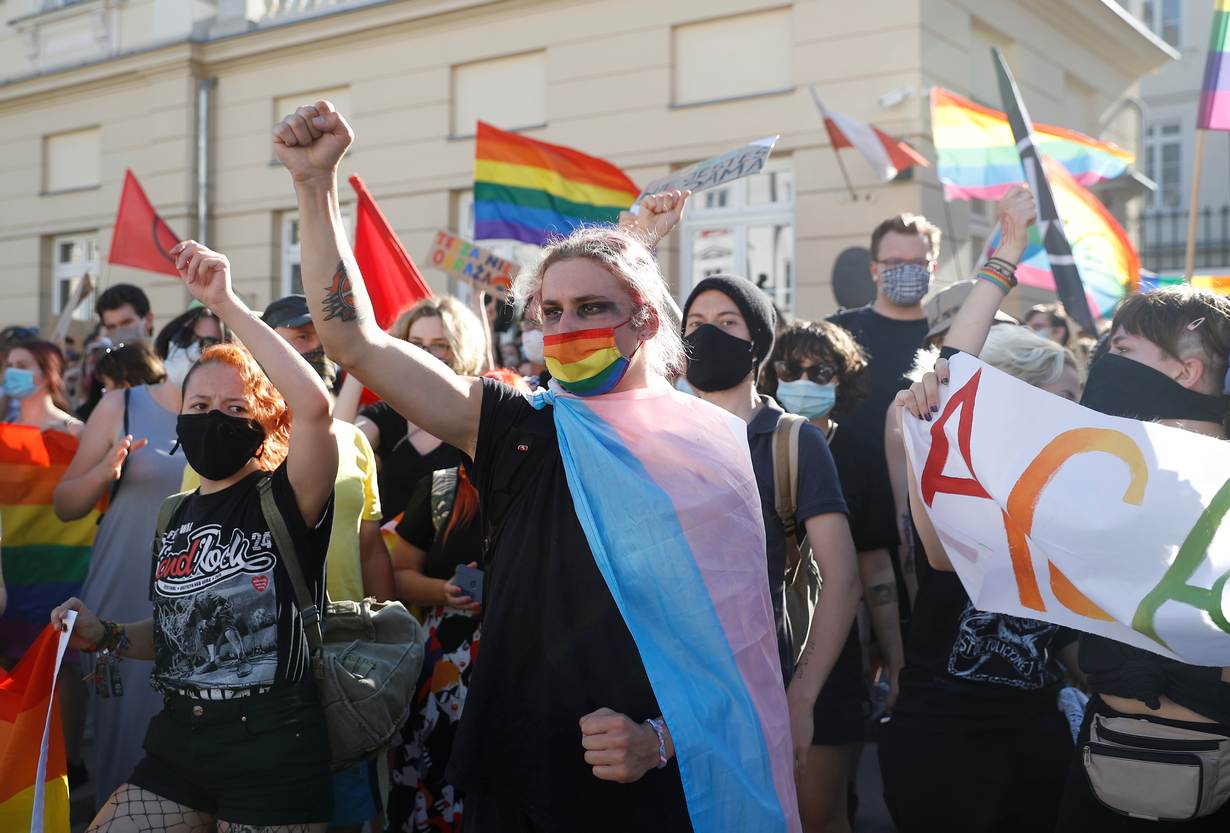 9. Poland
Poland's President Andrzej Duda was narrowly re-elected to a second five-year term in July, after comparing LGBT+ "ideology" to communism and pledging to ban same-sex adoption and LGBT+ lessons in schools during the campaign.
Later the same month, the EU said it would withhold funding from a town-twinning scheme to so-called LGBT-free zone towns, prompting Poland's nationalist government to threaten a legal challenge.
In August, thousands took to the streets to protest the detention of LGBT+ activist Margot Szutowicz, who was accused of damaging an anti-abortion campaigner's van and was arrested earlier in the month for hanging rainbow flags from statues.
10. Hungary bans legal gender changes and same-sex adoption
In May, Hungary banned trans people from changing their gender on identity documents as the nationalist ruling party Fidesz pushed back against what it labelled "gender propaganda".
"Homosexual propaganda" was another target of Prime Minister Viktor Orban's government in October as it condemned a children's fairytale book featuring LGBT+ characters.
In December, Hungary amended the definition of a family in its constitution to allow an effective ban on adoption by same-sex couples and mandate that children be raised with "values based on our Christian culture".

($1 = 0.8200 euros)
(Reporting by Hugo Greenhalgh, Rachel Savage and Anastasia Moloney @hugo_greenhalgh @rachelmsavage @anastasiabogota; editing by Belinda Goldsmith. Please credit the Thomson Reuters Foundation, the charitable arm of Thomson Reuters, that covers the lives of people around the world who struggle to live freely or fairly. Visit http://news.trust.org)