* Any views expressed in this opinion piece are those of the author and not of Thomson Reuters Foundation.
New York LGBTQ+ activists write chalk slogans around the city to raise awareness about street harassment and catcalling
Sophie Sandberg is a queer activist, street artist and founder of Catcalls of NYC, which raises awareness about street harassment. She also co-leads Chalk Back, a global youth-led movement against street harassment
"I like girls too!" a man yelled at me and my partner as we held hands in public. "Can I join you two?" a guy shouted as he slowed his car, stopping traffic behind him, to gesture at us. Another stared relentlessly as we sat across from him on the subway, my head on my partner's shoulder.
Walking down the street as a queer couple can feel like being under a microscope, at best, and dangerous, at worst. You're hyperconscious of who might stare, worried a rude comment could escalate into something more, and always questioning whether showing affection is worth the risk of harassment.
According to a recent study, 95% of lesbian/bisexual women have experienced some form of sexual harassment in their lifetime. Another study by nonprofit Stop Street Harassment showed 90% of gay and bisexual men said they are sometimes, often, or always harassed or made to feel unwelcome in public spaces because of their perceived sexual orientation.
The anti-harassment movement Right to Be shares frequent testimonials from LGBTQ+ people about hateful discrimination in public space. As a queer activist and advocate against street harassment, I learn about many stories of street harassment directed towards LGBTQ+ individuals.
The anonymous stories shared on these platforms illustrate disturbing themes.
Trans people report hateful harassment, lesbian couples are fetishized, queer people of all identities endure slurs and violent threats. One trans woman of color shared her story: "Somebody on the corner said 'Damnnnn, I'd do it. I'd feel like dogshit but I'd do it.'"
To amplify these issues in public space, I and other activists write the verbatim phrases with chalk on the streets.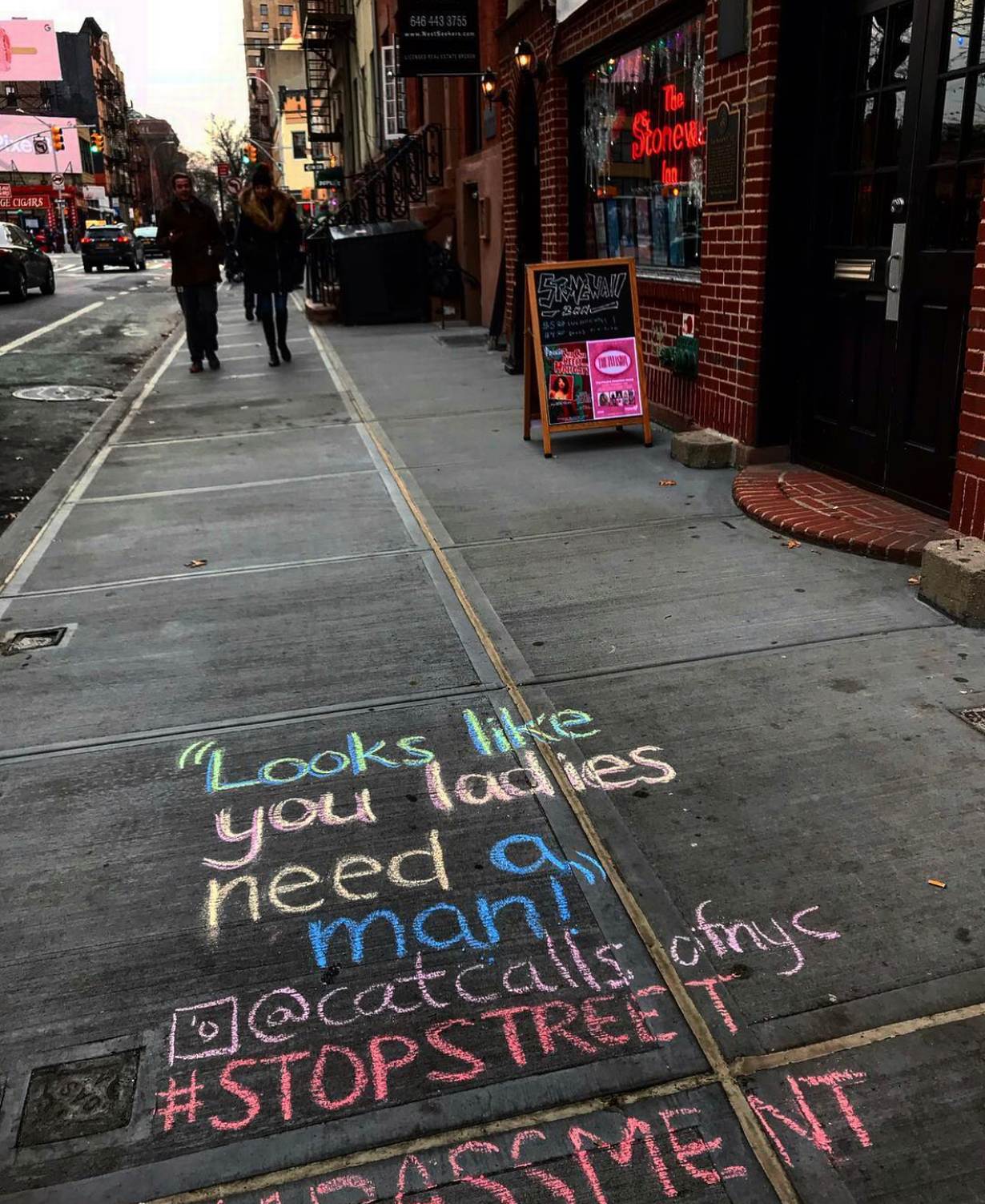 One woman reported: "I was leaving (LGBTQ+ bar) the Stonewall Inn with my wife when a man on a stoop lifted up her skirt and grabbed her ass. He then yelled out, 'Looks like you ladies need a man!'"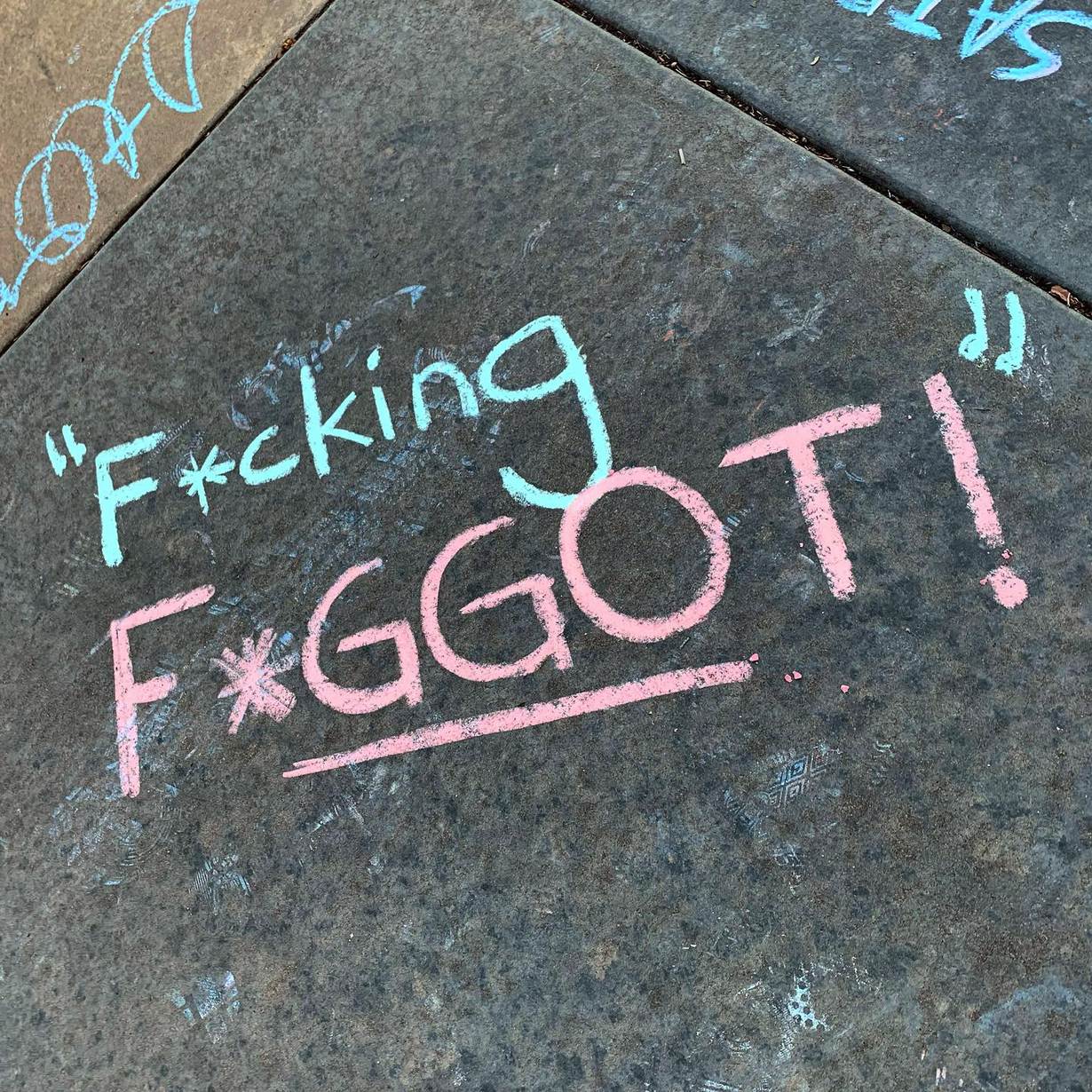 Sharing these experiences that LGBTQ+ people face creates a platform for community and support. It also allows actors in the anti-street-harassment space to confront misconceptions about street harassment.
Studies that center women's experiences of street harassment, including a 2021 Ipsos survey, showing that 80% of women have faced street harassment, are deeply important. However, the queer community may be inadvertently left out of conversations, mainstream media, and research on street harassment.
Highlighting these stories challenges the misconception that street harassment only impacts cisgender women.
Another misconception about street harassment is that it's "just words." Anyone who faces harassment knows this isn't true. Hateful verbal comments have an impact and often escalate into other forms of violence, especially for those who are further marginalized by systemic barriers relating sexuality, gender identity, race, and ability.
While New York is a place with many privileges for the LGBTQ+ community, there remain many challenges to raising awareness about street harassment. Increasingly, various state legislatures in the United States are targeting the rights of LGBTQ+ individuals and censoring open discussion about these issues. This censorship is exemplified by the recent Florida's "Don't Say Gay" law, which passed on March 28 and is echoed in certain on and offline spaces.
For queer activists and allies, being censored in the spaces we use to build community presents additional barriers. Public discussions around street harassment faced by LGBTQ+ individuals are essential to educate people on the best ways to intervene when harassment happens.
In honor of anti-street harassment week, we can all advocate for safer spaces for LGBTQ+ individuals. Here are a few ways you can take action today.
Chalk Back.

Write a story of harassment that you experienced or witnessed with chalk to raise public awareness.

Take a bystander intervention training.

Bystander intervention has proven benefits and empowers you with tools to respond to street harassment.

Educate yourself and others about the street harassment that LGBTQIA+ people face.

Street harassment is not a uniform experience and people face different forms of violence in public space depending on their identity.
Street harassment happens in public spaces, which means we all have the power to intervene.