Alba Ahmetaj and Edlira Mara hope their bid to be recognised as joint parents will pave the way for more LGBTQ+ rights in Albania
Same-sex parents not recognised in Albania
Lesbian couple refuse to register as single mother
Supreme Court ruling in case expected this year
By Enrique Anarte
TIRANA, May 15 (Openly) - A lesbian couple from Albania who are fighting to be recognised as joint parents of their twin daughters say they will take their case to the European Court of Human Rights (ECHR) if the country's top courts rule against them.
Alba Ahmetaj and Edlira Mara cannot both be registered as parents of the two-year-old girls under Albanian law, and they are refusing to state that Mara - the biological parent - is a single mother.
"We are not treated like every citizen, we are second-class citizens," Ahmetaj, 43, who works at rights group ProLGBT with her partner of 13 years, told Openly during an interview in the capital, Tirana.
In the absence of joint recognition, if the legal parent dies or becomes seriously ill, the surviving partner has no rights over the couple's children, who risk going to foster homes or being entrusted to other relatives.
"If something happens to Eda (Mara), our babies will go to an orphanage or they will be under the custody of her cousins," said Ahmetaj.
Ahmetaj and Mara took the government to court over the issue, but lost, leading them to file a lawsuit at the Supreme Court, which is expected to rule on the case in the coming months.
@openlynews Alba Ahmetaj and Edlira Mara are making LGBTQ+ history in Albania, one of the poorest countries in Europe. The lesbian couple are currently fighting in the Supreme Court for their daughters' right to be registered with two mothers. According to the Williams Institute, a think tank, Albania is the among the most homophobic countries in Europe, and Christian and Muslim groups in the Balkan nation have joined a national coalition against queer rights, which they say threaten traditional family values. Even if the judges rule against them, Alba and Edlira say they won't give up. They're already planning on taking their case to Albania's Constitutional Court and, if necessary, to the European Court of Human Rights. #lgbtqrights #lgbtnews #albania ♬ original sound - Openly | LGBTQ+ news
They are not optimistic about winning their case at the Supreme Court - or the Constitutional Court, their final domestic recourse - in which case they plan to go to the Strasbourg-based ECHR.
"We want to fight until the end," said Ahmetaj, who said the couple hoped to pave the way for greater rights among other LGBTQ+ families in the ex-communist nation of 2.8 million people.
The Albanian government did not reply to requests for comment.
HOMOPHOBIC ATTITUDES
Same-sex relations are legal in Albania, but LGBTQ+ people have few legal protections and homophobic attitudes remain widespread in the largely patriarchal society.
A survey for Euronews Albania last year found that only 12.4% of respondents would accept an LGBTQ+ person as a friend, with even young people, normally seen as more liberal, agreeing with their older peers.
"It's difficult to be out in Albania, because you can lose your parents, your brothers and sisters, your friends, like I have," said Ahmetaj, whose mother cut contact after the couple came out on TV as Albania's first openly LGBTQ+ family last year.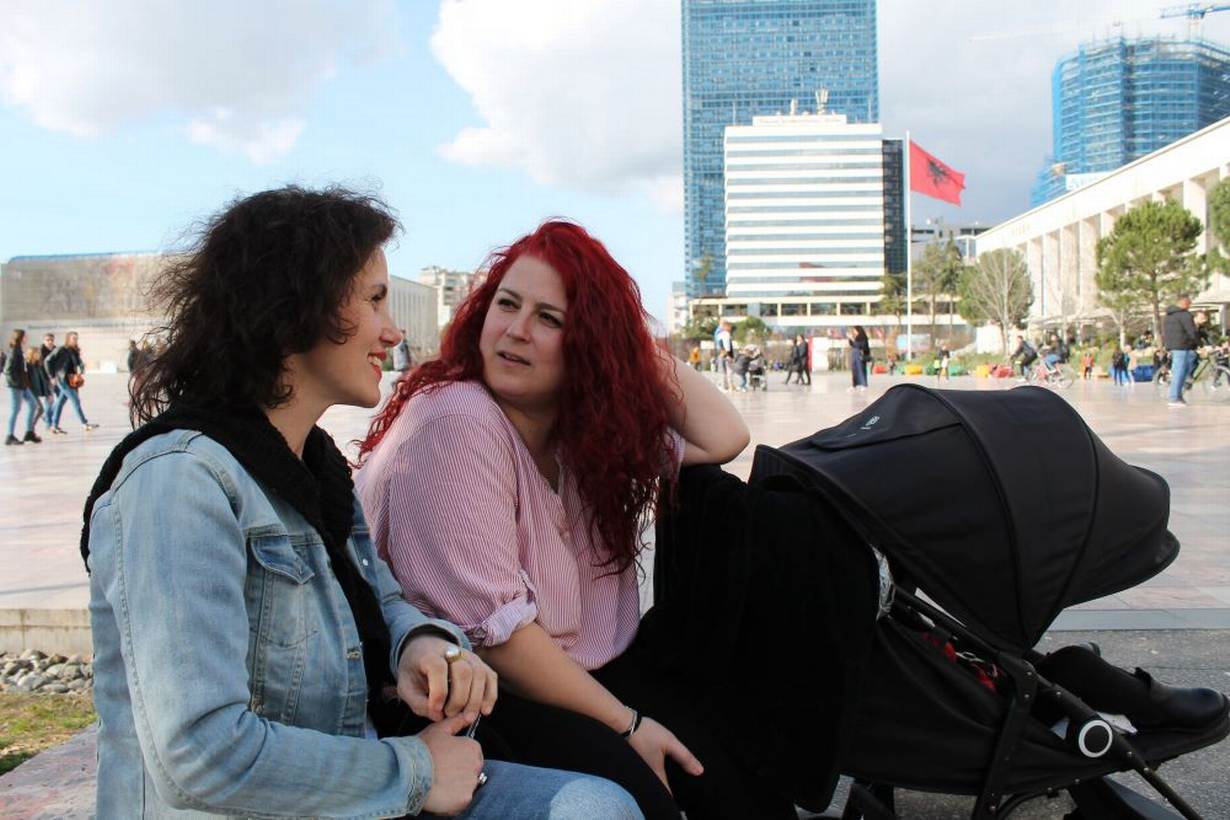 Like other Balkan countries aiming to become members of the European Union, Albania must demonstrate its readiness to protect human rights, and it has passed laws against discrimination because of sexual orientation.
In 2020, the country's psychologists banned so-called conversion therapy, which aims to change a person's sexual orientation or gender identity, and this year's Pride march in Tirana is expected to be the largest ever - suggesting acceptance is slowly growing.
As they await the Supreme Court's verdict, Ahmetaj said the couple's main concern was ensuring their daughters can access social and healthcare services despite not being officially registered.
The issue has become even more pressing as more services move online, requiring an identity card number that they do not have, Ahmetaj said.
"Our babies don't exist for the state," she said.
"It's difficult to see that your children may not have a future in your country."
Related stories:
EuroPride was not a political victory - we walked into a trap
Pride and Prejudice? Couples on LGBTQ+ love around the world
Lesbian parents fight to expand LGBTQ+ family rights in EU court
(Reporting by Enrique Anarte; Editing by Helen Popper and Hugo Greenhalgh. The Thomson Reuters Foundation is the charitable arm of Thomson Reuters. Visit https://www.openlynews.com/)
Openly is an initiative of the Thomson Reuters Foundation dedicated to impartial coverage of LGBT+ issues from around the world.
Our Standards: The Thomson Reuters Trust Principles.