As the clock ticks down to Eurovision on Saturday, Liverpool's LGBTQ+ scene is heralding a welcome economic boost
Liverpool's LGBTQ+ scene profits from Eurovision
The contest is worth more to the city than its annual Pride
Europe's 'campest' competition is one of its most profitable
By Lucy Middleton
LIVERPOOL, May 12 (Thomson Reuters Foundation) – Often called the campest competition in the world, the Eurovision Song Contest came to Liverpool this week, with tens of thousands of LGBTQ+ fans descending on the northern English city to spend big and play late.
Liverpool - which gave the world The Beatles - has embraced the kitsch annual show with zeal and its Pride Quarter, with more than 10 LGBTQ+ bars and clubs, expects a big boost from a slew of international visitors who identify as LGBTQ+.
"Since Liverpool was announced [as host city], I've talked about it every time I DJ," said Shaun McKenna, a drag performer and DJ who works at one of the city's oldest gay bars.
"I get everyone screaming for it. About 50,000 people come for Liverpool Pride and that's only one day (so this is) fantastic."
McKenna is spending most of the run-up week to Saturday's grand final as his alter ego Lady Sian, a stalwart of the ever-popular Bar Lisbon.
"Eurovision is the campest thing in the world," 58-year-old McKenna told Openly from behind the ornate venue's bar, currently kitted out with mega screens for a jam-packed schedule of Eurovision-themed events.
Liverpool was chosen to stage this year's contest - with competitors from 37 nations - on behalf of last year's winner Ukraine, whose war with Russia precluded it from hosting.
With Liverpool's council vowing to make this year's event the most inclusive yet, LGBTQ+ venues in the former industrial dockland city are already experiencing a boost in takings.
"We've had fans coming in from April. We had a Ukrainian girl who asked us to play a song from her hometown," McKenna said. "She gave me a 10-pound ($13) tip."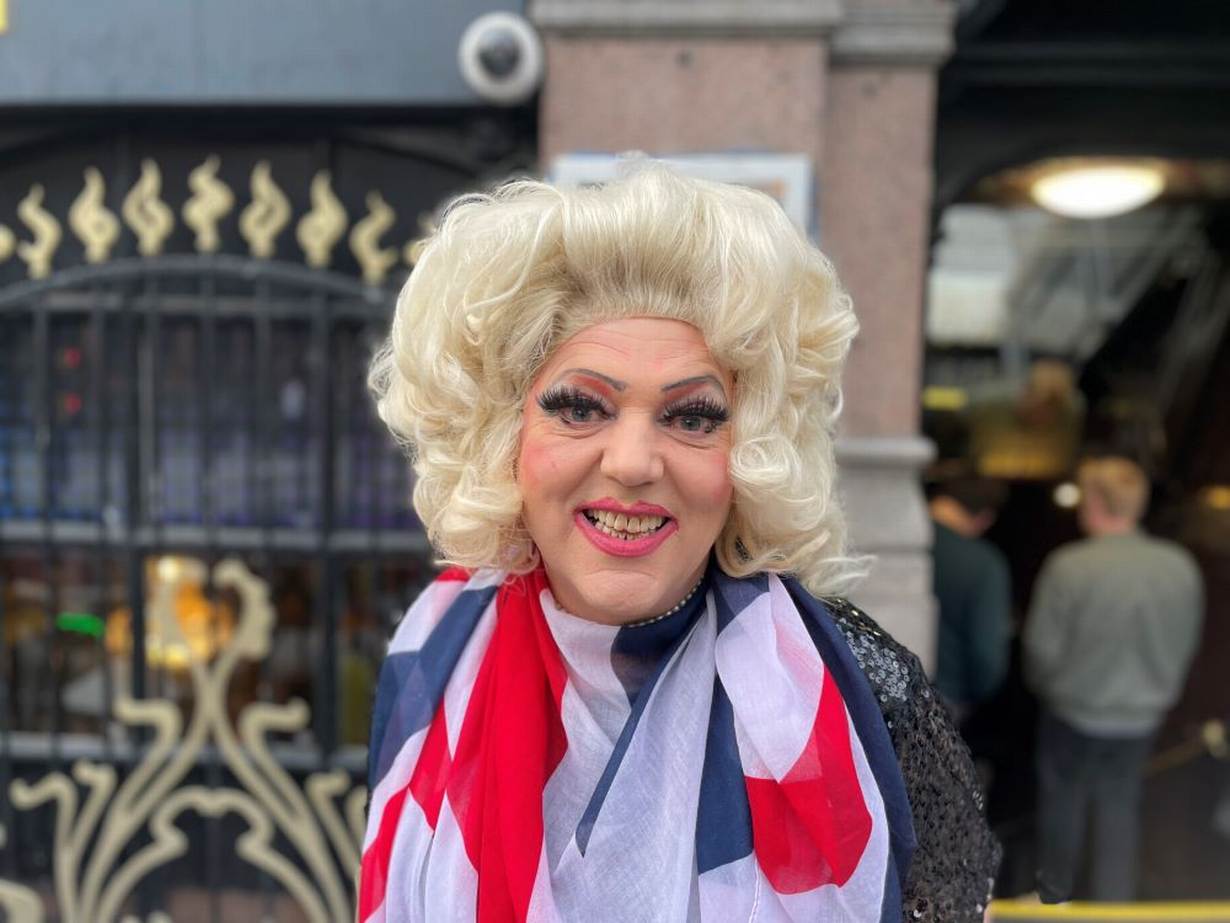 Liverpool expects 100,000 visitors for Eurovision, roughly double the crowd that hit Turin, Italy, for last year's final.
Tickets to the live shows cost fans up to £380, while the price of staying over for the final on Saturday night has increased by as much as 300% in some hotels.
It comes as Liverpool limps back from the pandemic, with income from inbound visitors crashing by 79% in 2020 as the country locked down and stayed home.
Like other tourist hubs across Britain, the city is now struggling with slow growth and runaway inflation, making any boost to the hospitality industry welcome.
"During the pandemic, Liverpool's visitor economy shrank until near non-existence. The noticeable element, the idea of coming together to celebrate, that was lost," said Jan Brown from Liverpool John Moores University.
"The opportunity to re-imagine the city as welcoming to all is huge."
SAME-SEX SONGS?
Eurovision began in 1956 in a bid to unite Europe after World War Two. For many LGBTQ+ fans, the contest has since become synonymous with an exuberant - and often camp - show of self-expression, gaining a global following.
Contestants have proved diverse, too.
In 1961, Luxembourg's Jean-Claude Pascal won the contest with a song interpreted by many fans as a same-sex love song.
Dana International became the first openly LGBTQ+ and transgender winner, singing for Israel in 1998.
Conchita Wurst, the drag persona of singer Thomas Neuwirth, became the first openly gay winner for Austria in 2014.
"Eurovision has always been popular among the queer community – it just didn't come out until the 1990s," said Dean Vuletic, an academic expert on Eurovision.
Vuletic said the introduction of public voting and a new, commercial exploitation of the contest took its LGBTQ+ fan base out of the closet and onto prime-time screens, with 161 million viewers watching the final in 2022.
"That's when you started to notice gay fans on television," Vuletic said from Liverpool.
"Eurovision has really come to value its gay following – the visibility of the rainbow community is one of the things that makes it so special and diversity has become part of its brand."
RAINBOW CITY
Staging Eurovision can cost a host city between £8.5 million and £21 million.
Liverpool City Council said by email that it expects the contest to generate extra local spending of up to £25 million right off, with another £250 million projected in coming years.
But analysts predict the immediate gains could be even higher, with NatWest bank estimating fans will spend more than £40 million in the city over a jam-packed week of events, given the city's assiduous courtship of LGBTQ+ visitors.
Liverpool Pride, which draws some 50,000 visitors each summer, brings in about £5 million, according to the last data recorded before the pandemic in 2019.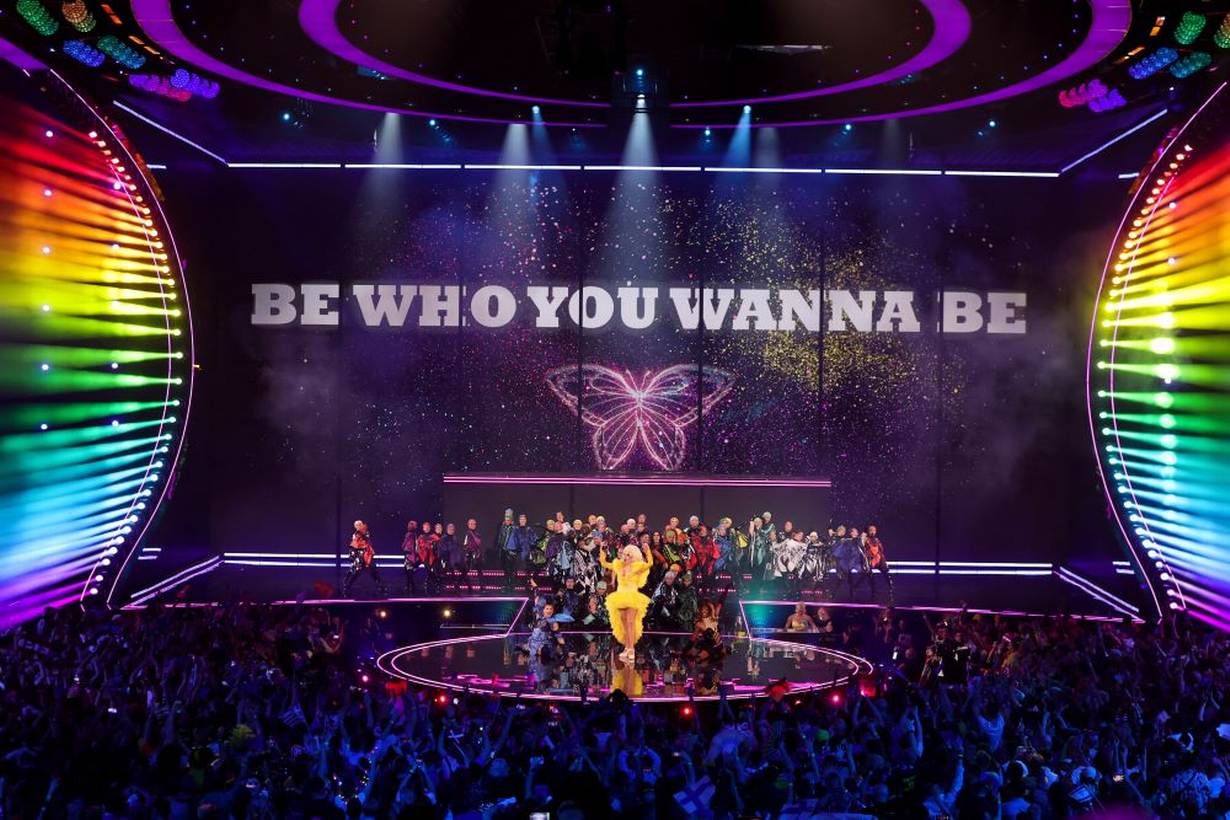 And in 2011, Liverpool became the first city in Britain to recognise its gay scene officially, adding rainbows to the area's street signs, before it was rebranded as the Pride Quarter in 2021.
Almost all bars in the central Stanley Street area host drag queens - nightly - with three performers telling Openly that work had more than doubled during Eurovision.
"The contest is going through another metamorphosis – the way it is being spoken about it, it's no longer a joke," said Bren O'Callaghan of Culture Liverpool, which is overseeing two weeks of events, including three days set aside for LGBTQ+ performers.
"In terms of our preparation, we're talking about millions being spent."
Fans say they plan to let rip money-wise.
Alisa Lozova, who is Latvian and Irish, came to Liverpool from Dublin to fulfill a lifelong passion.
"Eurovision is sort of my obsession," 22-year-old Lozova told Openly outside Masquerade Bar, as it played Eurovision hits.
"Because it's something so major that I've wanted to tick off my bucket list forever, I really don't care how much spend. I would throw money to these people freely," said Lozova.
Masquerade, which calls itself 'Liverpool's friendliest gay bar', has extended its hours and upped its capacity to cater for the influx of out-of-towners.
"It has been packed out, bigger than we thought it would be," the bar's general manager Gethin Mullock said.
"Saturday is usually our best night and this has basically been a row of Saturdays."
This story was updated on May 12, 2023, to correct Conchita Wurst's country win in 2014.
Related stories:
OPINION: Eurovision is more than glitz and camp – it's a force for LGBTQ+ inclusion
Bisexual representation will win this year's Eurovision
Turkey boycotts Eurovision Song Contest over LGBT performers
(Reporting by Lucy Middleton; editing by Lyndsay Griffiths and Hugo Greenhalgh. Please credit Openly, the LGBTQ+ news website from the Thomson Reuters Foundation, the charitable arm of Thomson Reuters. Visit https://www.openlynews.com)
Openly is an initiative of the Thomson Reuters Foundation dedicated to impartial coverage of LGBT+ issues from around the world.
Our Standards: The Thomson Reuters Trust Principles.