Activists fear a right-wing coalition could roll back LGBTQ+ rights, particularly transgender rights
By Enrique Anarte
MADRID, July 17 (Thomson Reuters Foundation) – The rights of gay, lesbian, bisexual and transgender people have taken centre stage ahead of Spain's July 23 national election.
Opinion polls predict Alberto Núñez Feijóo's conservative People's Party (PP) will win the election after four years of coalition government by Prime Minister Pedro Sánchez's Socialists and the leftist Unidas Podemos.
But Feijóo would likely need the support of the far-right Vox party to form a government. Vox has strongly opposed LGBTQ+ rights.
Here is what you need to know.
Why are LGBTQ+ advocates worried?
Local elections in May paved the way for PP-Vox coalitions in several Spanish municipalities.
Vox made headlines in May by hanging a sign from a Madrid building showing a hand dropping cards with symbols representing feminism, communism, the LGBTQ+ community and Catalan independence into a rubbish bin.
A new Vox-led authority in the small eastern town of Náquera last month said it would no longer display the rainbow-coloured flag on public buildings.
In Valdemorillo, a small town near Madrid, the new PP-Vox council cancelled a performance of a theatre adaptation of Virginia Woolf's novel "Orlando", in which the protagonist changes gender.
What do right-wing parties advocate?
Both Vox and the PP have promised to take action against some pro-LGBTQ+ measures passed by the left-wing government.
They have both pledged to change a self-determination law that came into force in March, allowing trans people over 16 to change their legal gender simply by informing the official registry, rather than undergoing two years of hormone treatment.
The law also allows children over 14 to change their legal gender with parental approval.
PP and Vox, as well as some women's rights groups, argue the legislation puts women in single-sex spaces at risk and have accused the left of forcing children to medically transition.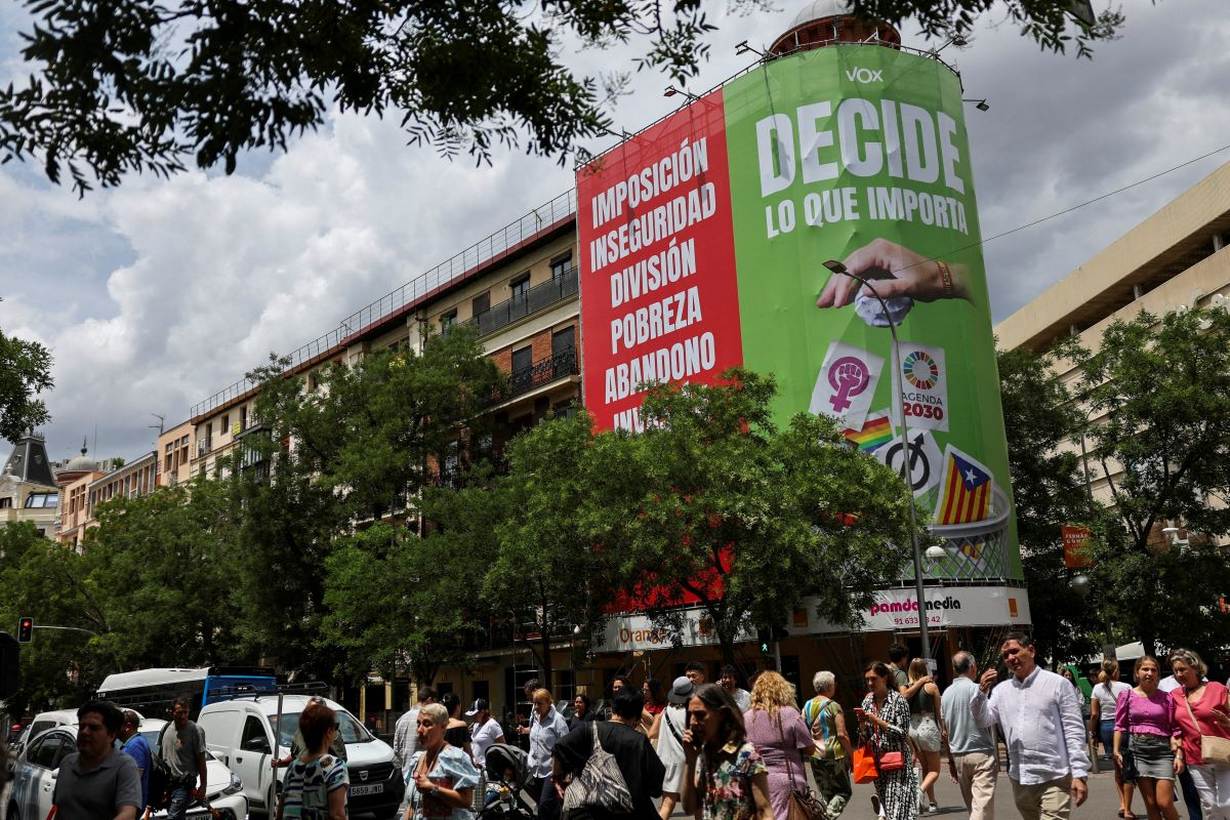 "Changing your sex is easier than getting a driver's license," Feijóo said. Vox party leader Santiago Abascal said "the 'trans law' discriminates against women."
But the parties have not clarified which parts of the law they would revoke. The legislation also banned so-called "conversion therapy", which aims to change someone's sexual orientation and gender identity, and unnecessary surgery on intersex babies, who are born neither male nor female.
Both the PP and Vox declined to answer requests for comment.
Vox has also proposed allowing parents to take their children out of sex education classes and lessons covering sexual and gender diversity.
What do LGBTQ+ activists say?
Spain is fourth in the ranking of European countries' LGBTQ+ rights by advocacy group ILGA-Europe, but LGBTQ+ activists said a PP-Vox government would roll back their rights.
Several international surveys rank Spain amongst the most LGBTQ-friendly societies in the world, although hate crimes against the community rose by 68% between 2019 and 2021, Interior Ministry data showed.
A right-wing government could also to target LGBTQ+ rights by failing to implement existing laws, said Uge Sangil, head of LGBTQ+ umbrella group, FELGTB.
"We could go back 40 years," Sangil said.
For some, a PP-Vox coalition could also delay long-awaited measures such as including a non-binary option on identity documents.
"It would not only mean bring a setback in rights - we would also have practically no chances of moving forward," said Darko Decimavilla, a non-binary activist.
Related stories:
Trans activists in Spain hail self-determination bill 'triumph'
'Scared to be openly gay': Fear in Spain after man beaten to death
What are trans self-ID laws and what impact do they have?
(Reporting by Enrique Anarte. Editing by Jon Hemming.Please credit Openly, the LGBTQ+ news website from the Thomson Reuters Foundation, the charitable arm of Thomson Reuters. Visit https://www.openlynews.com)
Openly is an initiative of the Thomson Reuters Foundation dedicated to impartial coverage of LGBT+ issues from around the world.
Our Standards: The Thomson Reuters Trust Principles.