Carla Antonelli says she will work to boost LGBTQ+ rights that are under threat from fake news and a right-wing pushback
Carla Antonelli makes history as first trans senator
Says fighting misinformation key amid right-wing pressure
Defends Spain's recent move to allow trans self-ID
By Enrique Anarte
Aug 21 (Openly) - Spain's first openly transgender senator said she will strive to protect hard-won progress on LGBTQ+ rights, including the country's ambitious trans self-ID law, as right-wing parties seek to roll back the community's gains.
"We will defend our rights tooth and nail," Antonelli, 64, who took up her Senate seat on Thursday following Spain's inconclusive July parliamentary election, told Openly in a phone interview.
Antonelli, one of Spain's best-known trans figures - partly through her acting role in a popular TV series, was a leading advocate for the self-ID law passed by the country's former progressive coalition.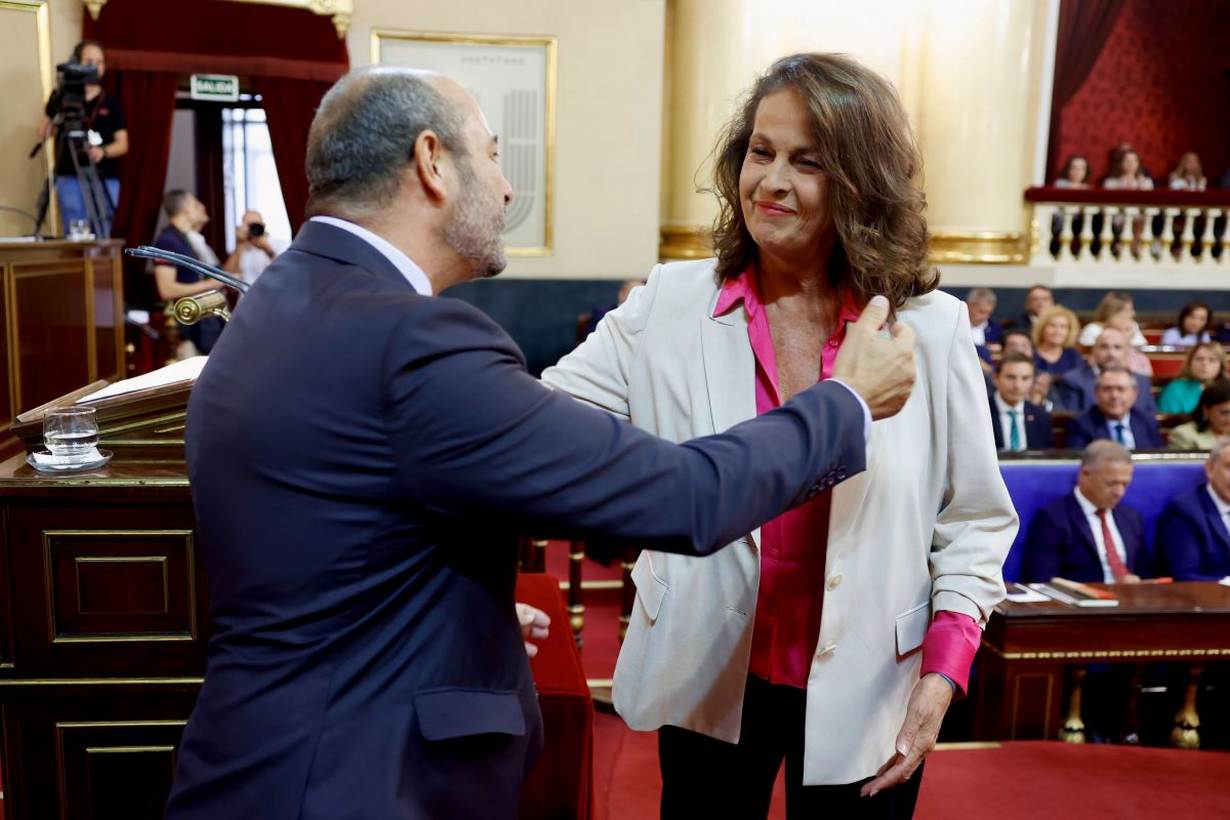 It lets trans people aged 14 and over change their legal gender without the need for psychological or other medical evaluation and judicial approval, scrapping a requirement for them to undergo two years of mandatory hormone treatment.
Both the conservative People's Party (PP) and far-right Vox have promised to revoke the legislation should they succeed in forming a government.
The law was the culmination of a years-long battle to boost the rights of trans Spaniards by campaigners including Antonelli.
In 2006, she went on a hunger strike to try and convince the Socialist party, of which she was then a member, to pass a law allowing trans people to change their legal gender without having to undergo sex-reassignment surgeries.
Antonelli quit the party last year after a faction refused to back the self-ID law that was eventually passed, and she said such episodes had convinced her of the need to stay true to her convictions.
"There is nothing in life like your own principles. I want to look in the mirror and see my true self reflected there," she added.
Self-identification has become an increasingly controversial topic, with some feminists saying it endangers women in single-sex spaces, such as women's refuge centres, changing rooms and bathrooms.
At least 14 countries have already introduced self-determination laws, from Finland and Malta to New Zealand and Argentina, where trans advocates say fears over women's safety have not been realised a decade after self-ID became law.
Fighting 'fake news'
LGBTQ+ rights have made huge strides in Spain since Antonelli was born in the island of Tenerife during Francisco Franco's 40-year-long fascist dictatorship, when an estimated 5,000 people were convicted under laws that criminalised same-sex relations.
"Back then there were no role models, only a dictatorship, a genocidal leader and iron censorship," she said, recalling how she found a role model in the Spanish trans actress Bibiana Fernández and the 1976 movie "Sex Change".
Antonelli left her hometown of Güímar at the age of 17, vowing never to return, and launched a career in politics and acting on the mainland.
She became a familiar face in many Spanish households with a permanent role in the popular TV series "Ulysses' Syndrome" in the late 2000s.
But despite progress on key issues such as self-ID, Antonelli said much remained to be done, warning about a pushback against trans rights in Spain and elsewhere through misinformation campaigns.
"Those who have spread fake news stories about trans people in female prisons or children being forced into hormone treatment have sown fields of hatred," said Antonelli, who previously served as the country's first openly trans MP in a regional parliament in 2011.
Countering such messages will be a priority for her in the Senate, Antonelli said, adding that she would also fight for long-delayed measures such as gender markers for non-binary people, who do not identify as either male of female, on official documents.
Antonelli, who now has a street named after her in Güímar, said she would not rest until LGBTQ+ people enjoyed the same rights as other Spaniards.
"We don't want anything special," she said. "We just want real equality and the right to be happy and die old."
Related stories:
Are LGBTQ+ rights at stake in Spain's election?
What are trans self-ID laws and what impact do they have?
Trans rights gain ground despite rising European rhetoric
(Reporting by Enrique Anarte @enriqueanarte; Editing by Helen Popper and Hugo Greenhalgh. Please credit Openly, the LGBTQ+ news website from the Thomson Reuters Foundation, the charitable arm of Thomson Reuters. Visit https://www.openlynews.com)

Openly is an initiative of the Thomson Reuters Foundation dedicated to impartial coverage of LGBT+ issues from around the world.
Our Standards: The Thomson Reuters Trust Principles.