Hailing the European Commission's recommendation on talks to join the EU, campaigners hope for solid progress on membership reforms
EU Commission recommends start of membership talks
Step will require countries to bolster legal protections
Activists say rushed accession, or delays, pose risks
By Joanna Gill
BRUSSELS, Nov 13 (Openly) - LGBTQ+ activists in Ukraine, Bosnia and Moldova - the countries next in line to start talks on joining the EU - say the membership process could boost their fight for equality, but only if the bloc takes governments to task over rights progress.
Announcing the recommendation last week for talks to start with the three countries, Commission President Ursula von der Leyen said that could only happen once outstanding conditions related to the rule of law and democracy were met.
She said Georgia would be added to the list of candidate countries, which also includes Albania, Kosovo, Montenegro, North Macedonia, Serbia and Turkey, a step welcomed by LGBTQ+ groups.
"Each step towards the EU gives us hope that sooner or later we will have equal rights and these rights will be protected," Leo Zbancă, an LGBTQ+ activist at the GENDERDOC-M Information Centre rights group in Moldova, told Openly.
The EU can oblige member states to adopt legislation that bans discrimination in the workplace on the basis of sexual orientation, and put pressure on them over anti-LGBTQ+ measures by withdrawing funding.
Rulings by the Court of Justice of the EU (CJEU), the EU's top court, can also force countries to uphold LGBTQ+ rights.
Russia's invasion of Ukraine put enlargement back at the top of the EU's political agenda as geo-political rivalry between Moscow and the West erupted with a new force.
But while the push to admit new members might be a chance to accelerate reforms protecting LGBTQ+ rights, campaigners said they feared pro-equality policies might be overlooked to accelerate the accession process.
"It's kind of a weird Catch 22," said Belinda Dear, senior advocacy officer at LGBTQ+ organisation ILGA-Europe. "We don't want the rush of the Western Balkans, but we don't want them to be forgotten."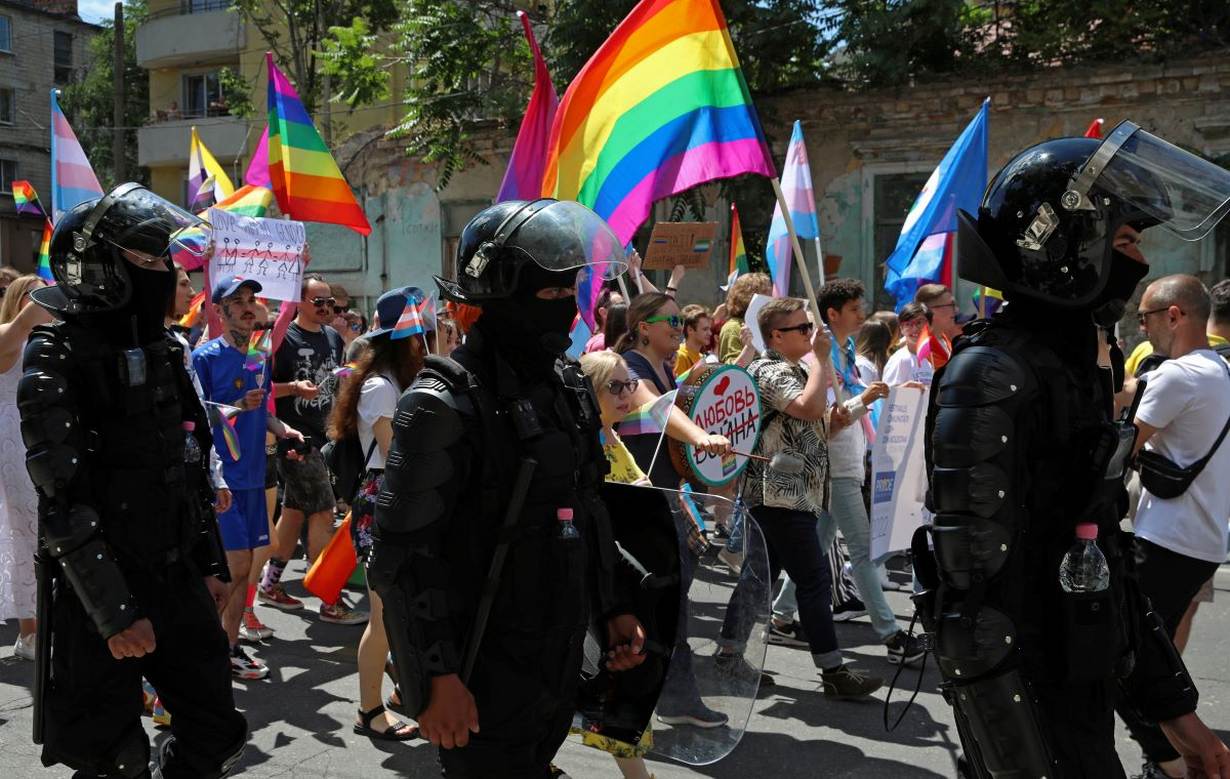 BACKSLIDING ON RIGHTS
Ukraine, Bosnia and Moldova currently score poorly in a ranking of LGBTQ+ rights progress compiled by the ILGA-Europe rights group, and do not recognise same-sex civil unions - a key demand of LGBTQ+ activists that has been endorsed in rulings by the CJEU.
Campaigners are also demanding legal protections for transgender people - for example, laws allowing people to change their legal gender.
Most EU countries have some form of legal gender recognition, though many require lengthy and complicated procedures. Finland and Spain have passed bills this year to allow gender self-determination.
The recommendation to start talks with the three countries, which must be approved by all 27 member states at a December summit, follows recent backsliding on LGBTQ+ by EU members Poland and Hungary.
Several candidate countries have also faced criticism over their record on protecting LGBTQ+ rights.
In Bosnia's autonomous Serb Republic, lawmakers have sought to ban LGBTQ+ organisations from entering educational institutions, though the proposal has not yet been passed.
In Georgia, an ex-Soviet state which applied to join the EU in 2022, activists said hate speech by politicians had fueled violence at the Tbilisi Pride earlier this year.
"They demonise the LGBTQ+ community and activism and human rights defenders almost on a daily basis," said Mariam Kvaratskhelia, co-director of Tbilisi Pride.
In May, Georgian Prime Minister Irakli Garibashvili said LGBTQ+ "propaganda" was destroying "traditional family values".
'POWERFUL TOOL'
Despite campaigners' concerns about faltering progress, the promise of membership remains a powerful tool to advance LGBTQ+ rights, said Dear.
"It is still working," she said, adding that threats of EU funding penalties imposed on Hungary and Poland were an important reminder of the consequences for EU countries that pass anti-LGBTQ+ laws.
"Money talks ... the cutting of funding was a good signal to show that non-respect of EU law means no money," Dear said.
In Ukraine, the LGBTQ+ community has few legal protections but there has been progress in recent years, said Inna Sovsun, a lawmaker who has tabled a bill to recognise same-sex partnerships and chairs a subcommittee on EU integration.
She said although recognising same-sex partnerships is not a condition for joining the EU, some members states such as the Netherlands and Nordic countries view it as a litmus test of a country's readiness to embrace membership.
"(Rights issues) will be gaining more momentum and more attention as we move forward on the European integration side," she said.
With war rumbling on EU borders, even the most optimistic forecasts do not envision membership for Ukraine - along with Moldova and Bosnia - before 2030 at the earliest. It took 10 years of talks for the most recent member, Croatia, to join.
Long delays to EU membership could lead to a backlash against LGBTQ+ rights in candidate countries, warned Darko Pandurević, advocacy manager at the Sarajevo Open Centre, a non-profit defending LGBTQ+ rights in Bosnia and Herzegovina.
"If there is no visible progress on EU membership, people become disillusioned," Pandurević said.
Related stories:
In Ukraine, foreign LGBTQ+ soldiers find acceptance on frontlines
LGBT activists in Moldova hold march without police protection
Spain's first trans senator vows to defend gender self-ID law
(Reporting by Joanna Gill; Editing by Helen Popper. The Thomson Reuters Foundation is the charitable arm of Thomson Reuters. Visit https://www.openlynews.com/)
Openly is an initiative of the Thomson Reuters Foundation dedicated to impartial coverage of LGBT+ issues from around the world.
Our Standards: The Thomson Reuters Trust Principles.