Anti-LGBT attitudes in Kenya, coupled with the country's restrictive refugee policy, have pushed many Ugandan refugees into survival sex work
By Nita Bhalla and Sally Hayden
NAIROBI/KAKUMA REFUGEE CAMP, Kenya, Oct 31 (Openly) - It wasn't long after Joe's father was shot dead for being gay that the 24-year-old Ugandan college student realised the men from his church would be coming for him next.
First came the anonymous phone calls in the dead of night. Then the chilling text messages detailing how he would be "hunted down". It was only after he was attacked and lay bruised and bleeding in a public toilet that Joe fled to Kenya.
But four years on, the country he believed would be a safe haven for lesbian, gay, bisexual and transgender (LGBT+) refugees like himself has been more like a living hell.
He walks the streets of the Kenyan capital, Nairobi, in constant fear of arrest. He is frequently evicted from his lodgings. And with no means of income, he is forced to sell sex for 200 shillings ($2) through gay dating apps.
"I try and get through one day at a time. But I don't see a future ahead for me," said Joe, now 28, who did not want to reveal his real name.
"In Kenya, I can't even get a job and in Uganda, they will kill me if I return. These are my options. Sometimes I just want to kill myself," he told the Thomson Reuters Foundation.
Seen as a refuge in the volatile east African region, Kenya hosts around half a million people fleeing conflict, drought and persecution from countries such as Somalia, South Sudan, the Democratic Republic of Congo, Ethiopia and Burundi.
But largely forgotten, say campaigners, are the hundreds of LGBT+ refugees - predominantly from Uganda - forced to live in the shadows and pushed to the brink due to a lack of protection, safe housing and employment.
"While laws criminalising homosexual acts exist across Africa, LGBTQI people see Kenya as the least bad option as anti-gay laws are rarely enforced and there is less violence," said Adam Fitzgerald from the Refugee Coalition of East Africa.
"But in Kenya, they also face multiple discrimination. As foreigners with no income, they face classism, racism and xenophobia. They are subjected to the prejudices of being a refugee. And then they also endure anti-LGBT attitudes."
This discrimination, coupled with Kenya's restrictive refugee policy, which denies asylum seekers the right to work and requires them to live in remote camps, has led to high poverty rates - pushing many into survival sex, he added.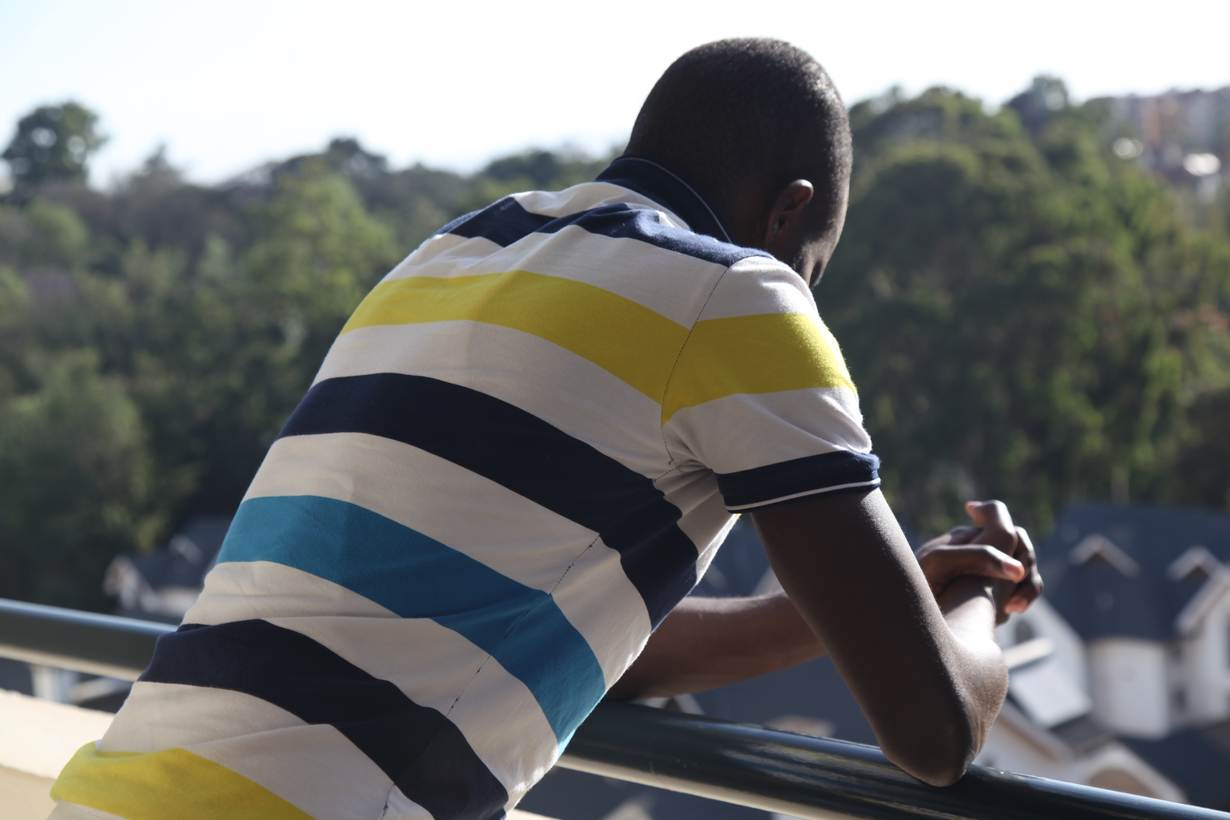 ASSAULTED, BLACKMAILED, RAPED
African countries have some of the most prohibitive laws against homosexuality in the world. Same-sex relationships are considered taboo and are a crime across most of continent, with punishments ranging from imprisonment to death.
A 2017 report by the International Lesbian, Gay, Bisexual, Trans and Intersex Association found 33 African countries out of a total of 54 nations criminalise same sex relations.
The persecution of LGBT+ Africans is also rife, with sexual minorities routinely being abused, blackmailed, assaulted by mobs, or raped by police or vigilantes, campaigners say.
While Kenya has for decades hosted refugees escaping wars in east African nations, moves to strengthen anti-gay laws in Uganda in 2014 sparked a wave of homophobic attacks which has resulted in hundreds of LGBT+ people crossing the border.
There are more than 750 LGBT+ refugees registered with the United Nations' refugee agency (UNHCR) - mostly from Uganda, but also from the Democratic Republic of Congo, Ethiopia, Burundi, South Sudan and Somalia.
Campaigners say the true figures are much higher as some LGBT+ asylum seekers remain undocumented - having been through harrowing experiences at home and too fearful to register with authorities and reveal their sexual orientation.
"It wasn't an easy decision to leave my home and come to Kenya. No one wants to leave their family and become a refugee," said Sharon, 21, who fled Uganda to Kenya in November 2016, and did not wish to give her real name.
Thrown out of her home by her mother for being a lesbian, she was then raped by the uncle she sought refuge with - and ended up pregnant with his child.
"Yet when you have been through what I have, you think that there must be something better," she said.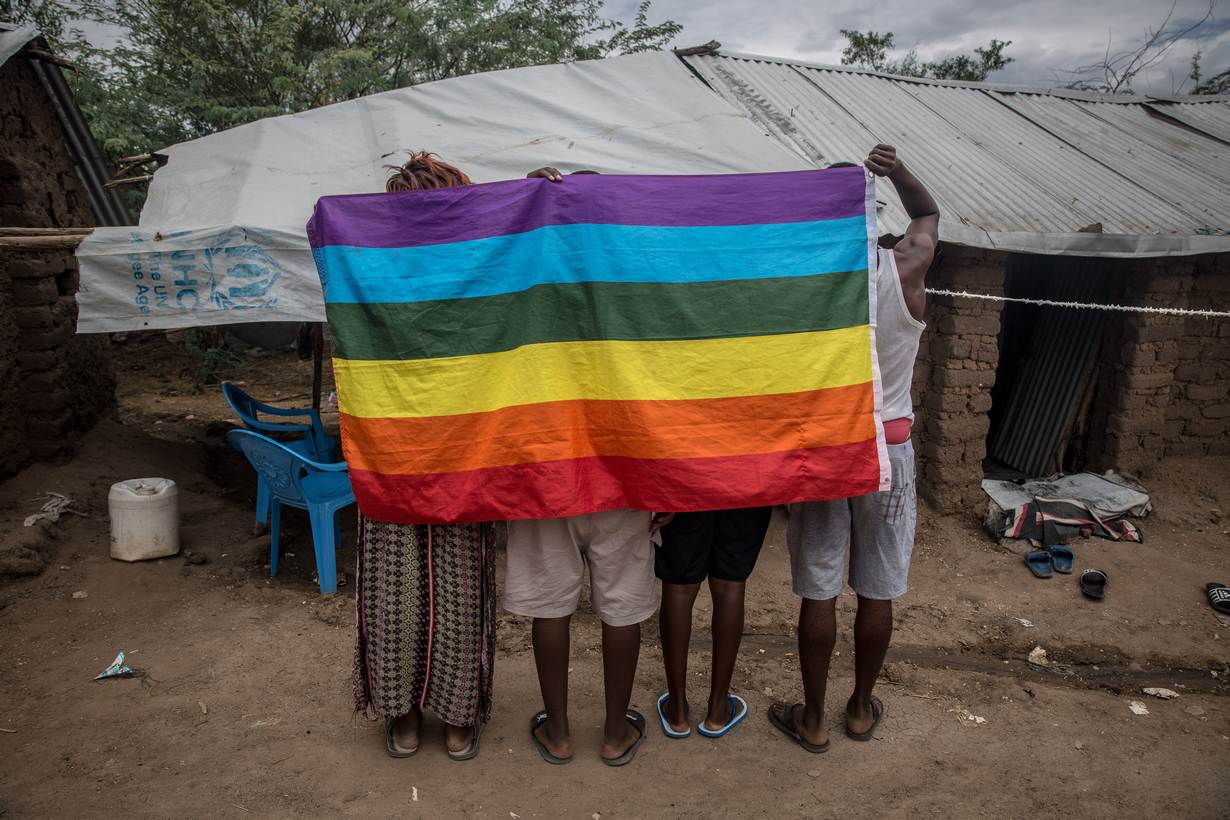 NO FREEDOM, NO WORK
But for many LGBT+ refugees in Kenya, life isn't better.
It can take more than four years to be granted refugee status, during which time asylum seekers cannot work. And even after gaining refugee status, LGBT+ refugees find it impossible to find a job due to discrimination from anti-gay employers.
Refugees must live in either of the country's two northern camps, Kakuma or Dadaab, which offer basic accommodation, clean water, some food rations and access to healthcare and education.
But sexual minorities say they are not safe there. Following a Gay Pride event in Kakuma in June, there have been a spate of attacks on LGBT+ refugees who make up just 170 of the more than 180,000 refugees at the camp, say refugees and the UNHCR.
Some LGBT+ refugees said they were beaten while walking through the camp, and others said their shelters were deliberately set on fire by refugees who were against sexual minorities.
Most LGBT+ refugees prefer to take their chances, illegally residing in Nairobi where they risk arbitrary arrest, evictions and harassment - but where they can live in relative anonymity.
The UNHCR said it is advocating with Kenyan authorities to better support LGBT+ refugees.
"There is a need to recognise that the LGBT refugee community members should not be expected to go to Kakuma, if it is clear that they need to live a protected area," said Walpurga Engelbrecht, UNHCR's deputy representative to Kenya.
"At the same time, it is important that their refugee status determination is sped up so they have access to work permits and can look after themselves."
Kenyan authorities acknowledge that LGBT+ refugees face discrimination and violence, but say all refugees must be treated equally under the law.
"Whether you are straight or gay, all refugees must live in the designated areas. We cannot change our policies for one group - but we do try to prioritise their asylum claims," said Kodeck Makori, Commissioner for the Refugee Affairs Secretariat.
"They are welcome in Kenya, but they should also not distinguish themselves from others. As visitors, they know what the law is and how conservative attitudes are, so 'When in Rome, do like the Romans do' otherwise you risk becoming a target". (Reporting by Nita Bhalla @nitabhalla and Sally Hayden @sallyhayd. Writing by Nita Bhalla. Editing by Katy Migiro. Please credit the Thomson Reuters Foundation, the charitable arm of Thomson Reuters, that covers humanitarian news, women's rights, trafficking, property rights, climate change and resilience. Visit http://news.trust.org)
Openly is an initiative of the Thomson Reuters Foundation dedicated to impartial coverage of LGBT+ issues from around the world.
Our Standards: The Thomson Reuters Trust Principles.